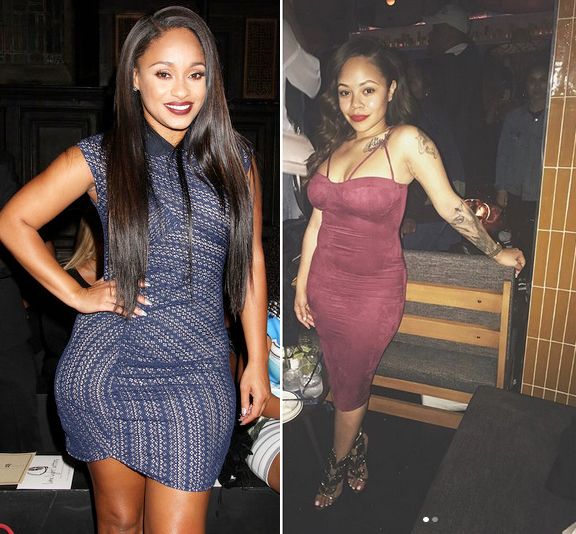 Tahiry Jose's roommate, who she recently got in a physical fight with, is spilling tea on her behind-the-scene sexcapades with ASAP Rocky and basically drags her for filth. Catch the tea, plus Chilli's response to the All Lives Matter controversy inside…
The woman who Tahiry Jose fought on her birthday (and got arrested) is speaking out. And she is spilling all type of tea about the former "Love & Hip Hop" star.
The woman hopped on Instagram to air out some of Tahiry's dirty laundry, claiming Tahiry has been hooking up with ASAP Rocky on the low. Apparently, ASAP left Tahiry behind to attend the MET Gala with Kendall Jenner (who he is rumored to be dating). She accused Tahiry of creating a fantasy life on social media, but every night she's crying on her shoulder over not being able to pay her rent or her car note. Yikes.
Oh, and her rant gets juicier....
She also blasted Tahiry for stalking her ex-boyfriend and his new girl's social media pages. While she didn't drop any names, it's clear she's talking about Joe Budden and his new girlfriend Cyn Santana.
Check it: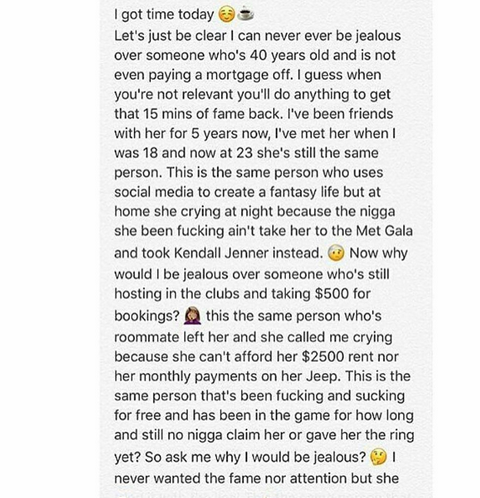 And apparently, she was never Tahiry's roomate:
Chile...
After getting dragged on social media for saying "All Lives Matter," TLC's Chilli is responding to the controversy.
So, let's catch you up on what went down.
Chilli and T-Boz sat down for an interview with Chanel 4 UK while on a press run to promote their upcoming self-titled album. The ladies were asked what were their thoughts on the "Black Lives Matter" movement and whether they attended any marches. Here's how Chilli responded.
"I personally didn't go to any marches or anything like that. But, for me, All Lives Matter. You know what I mean? Because there is a time when different groups are targeted for different things, you what I'm saying? So I just think that just the whole what happened - police brutality – against these young black boys, all of that kid of stuff is wrong. Even if it was a Caucasian teen kid that this was happening to or whatever."
Needless to say, folks got all up in her a**. She even turned off the comments on her Instagram page.
The 46-year-old singer has since offered up a response to try and clarify her statements. She told The Shade Room:
"Of course Black Lives Matter and the killing of young black boys is heartbreaking to all of us. Everyone knows I am a black mother of a black son so there is no way I could watch what's happening and not be affected. That video was from an interview in London asking me about issues happening in the U.S. My response was inclusive of everyone, but not meant to undervalue the Black Lives Matter movement to suggest police brutality against blacks is acceptable."
Also in the interview, T-Boz offered up some interesting comments about Donald Trump as well. When asked what she thought about being a black woman during the Trump Era, she responded, "I don't care about Donald Trump, so I mean, God is my president. I just feel sorry for the people it affects, but I don't care about him."
Peep the clip above.
Thoughts?
Photos: Getty/@pink.god