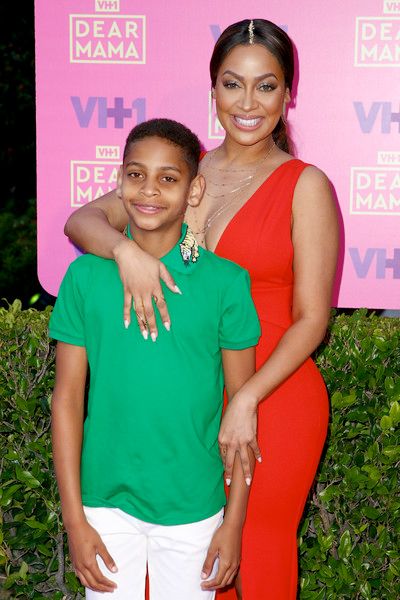 Carmelo Anthony is still shooting his shot at a reconciliation with his estranged wife LaLa Anthony and fans are chiming in about it. More inside….
NBA baller Carmelo Anthony is still stalking his estranged wife LaLa Anthony's Instagram page after news hit that they were separating last month.
The ringless "Power" star posted a picture of herself and her 10-year-old son Kiyan Anthony on Instagram on the red carpet at VH1's "Dear Mama" event with a sweet caption. The actress, who co-hosted the VH1 special, wrote,"He's the only one who knows what my heart sounds like from the inside #myoneandonly #myeverything #vh1 #dearmama (gold foil in my hair and I loved it)"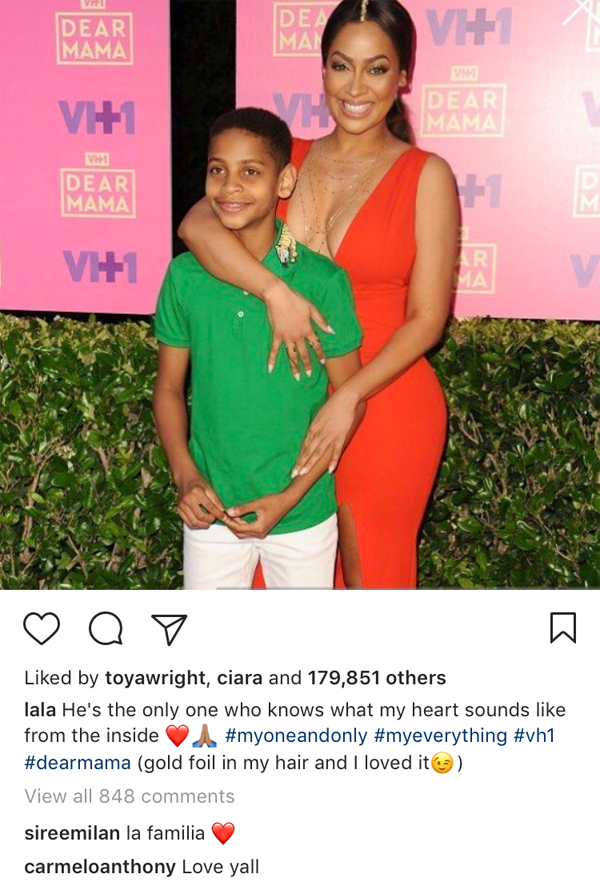 The NBA baller hopped in La's comment section and responded, "Love y'all." Hmph. This isn't the first time he has popped up in her comments section since their uncoupling.
Rumor has it, not only did Melo allegedly cheat on La, but he also allegedly got another woman pregnant.
Fans caught wind of Melo's comment and instantly chimed in. Some folks are hoping they can work through their issues and get back together, while others feel LaLa should run for the hills. Peep their reactions below: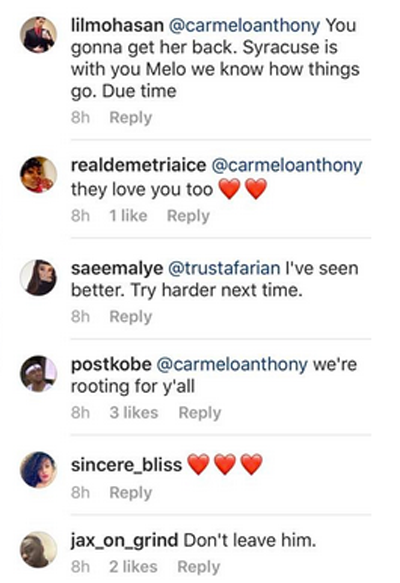 While on the carpet at the "Dear Mama" event, La spoke out for the first time about how she's dealing with the break up from her estranged husband.
"My family. My family is my strength," she said. "My family and God is my strength. That's where I've always found my strength my entire life, so now would be no different."
She also revealed her plans for Mother's Day on Sunday:
"I just want to be with my mom and my son, and just kind of keep it low key: watch movies, eat good food, listen to music. It's all about just being around family for us."
Melo, you're going to have to put in way more work than a few IG comments if you're really trying to win your wife back. Just sayin'....
Do you think La should give him another chance?
Photos: Getty