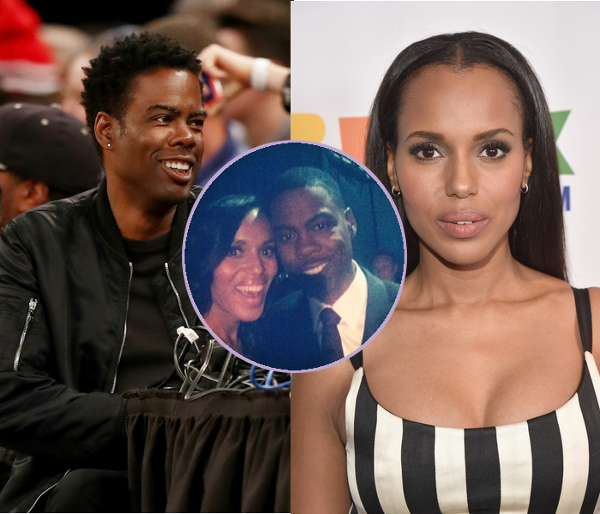 Here we go again.  Those rumors that Chris Rock cheated on his ex-wife with Kerry Washington are brewing again, and it's because Chris himself may have hinted toward it during a recent comedy show.  Deets inside...
Ten years ago, way back when Kerry Washington was engaged to David Moscow and Chris Rock was unhappily married to Malaak Rock, rumors swirled that Chris and Kerry were secretly smashing.  They were co-starring in I Think I Love My Wife at the time, a movie ironically about Chris' character cheating on his wife with fantasies of Kerry's character.
In Chris' new Rolling Stone cover story, the writer who followed him for a few days revealed he talked about cheating on his wife during his new comedy tour.  And he describes the women he cheated with saying:
"I was a piece of shit," says Rock as the crowd goes quiet. He segues into his infidelities and gets disarmingly specific, describing three women: one famous, one semifamous, and one a member of the retail class.
Hmph. 
Now, Page Six says they can confirm one of the women is Kerry Washington.  And Malaak allegedly found out:
"He was cheating on his wife with Kerry when they were filming ['I Think I Love My Wife'] about him, ironically, having fantasies of cheating on his wife. That went on for a while, for like six months, and she found out. There's no gray area."
Another source says Chris was just saying that as part of his routine, even though his marriage to Malaak was very much in a bad place:
A source close to Rock brushed off the routine as shtick, but admitted his marriage to Malaak was tumultuous. "I take it as a joke when he says he cheated with a famous person. He even says he cheated with a member of Destiny's Child, but not Beyoncé," the source said. "He was friends with Kerry around that time. They did the movie together. He was also separated from Malaak around that time. They were off-and-on a lot during their marriage. It was a rocky situation."
Kerry and David abruptly called off their engagement around the time she and Chris were allegedly having an affair.  Back in 2016, Kerry's ex-fiance David was asked about the cheating rumors.  He said, "No comment."
Kerry is now married with two kids and Chris is now dating actress Megalyn Echikunwoke.  By the way, don't expect for Chris to walk down the aisle again.  He also said during his new Total Blackout comedy tour:
"Would I ever get married again?  Not if it would cure AIDS."
Bloop.
EXTRAS:
1.  EBONY & JET Magazines have laid off a third of their staff and are moving their offices to L.A.  Desiree Rogers is leaving the CEO post and Linda Johnson Rice is reclaiming the CEO positions of both entities.  STORY
2.  Future turned out the strip club in Memphis last night with a surprise set that got the strippers $22K.  STORY
3.  Jeremih dropped a surprise EP for Cinco de Mayo called Cinco De MihYo.
Photos: Getty/Instagram