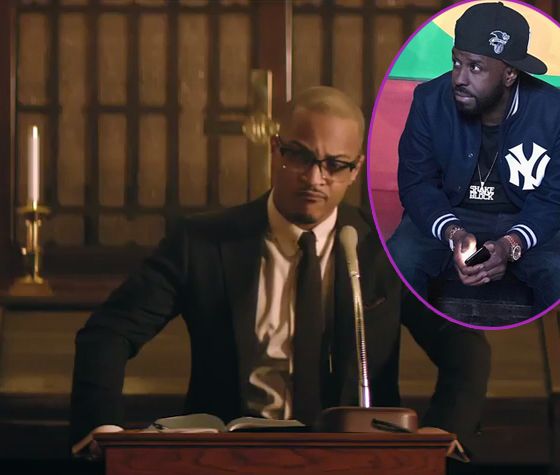 Funkmaster Flex responded to T.I. and Suge Knight's son about the comments he made about Tupac in a super emotional Instagram Live video. Plus, we've got Tip's "Us Or Else" short film that addresses police brutality inside…
Funkmaster Flex has launched some social media drama over comments he made about the late Tupac and the late Notorious B.I.G.
The radio personality hopped on Twitter to air out his frustrations over Biggie's death. He said if Tupac hadn't lied about who shot him five times at the Quad Recording Studios in Manhattan back in '94 (which started the east coast/west coast beef), Biggie would still be alive.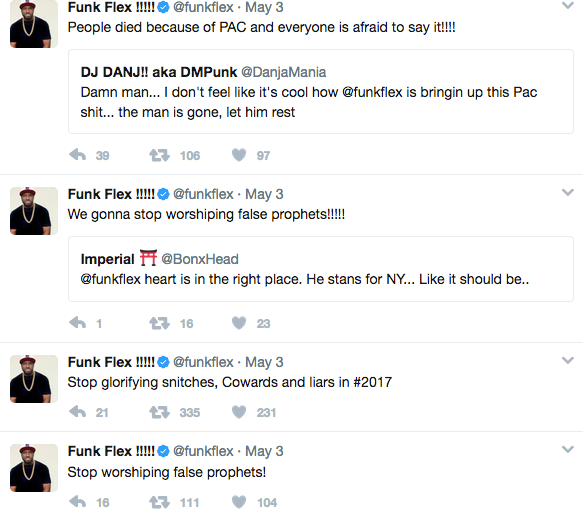 Tip caught wind of his tweets and decided to respond. He wrote:
Suge Knight's son, Marion Hugh Knight Jr., also had some words for Flex that he posted on his Instagram account: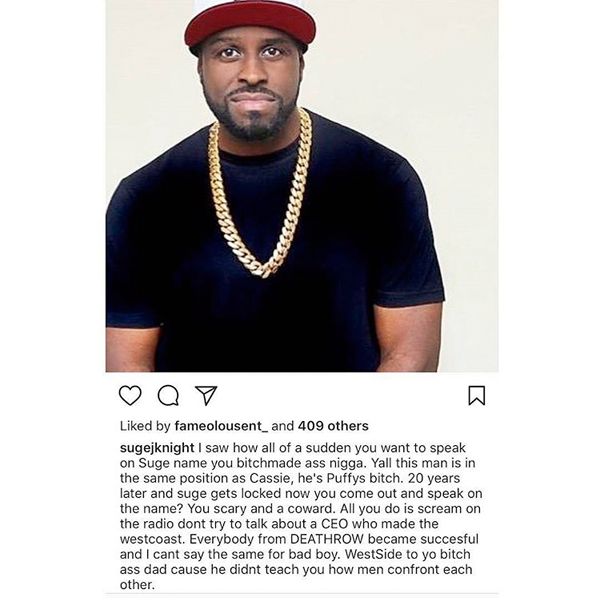 Last night, the HOT 97 personality hopped on Instagram Live to explain what he meant in his tweets. In the 40-minute session, Flex said he respects what Pac did for Hip Hop culture, but remains adamant that if Pac hadn't lied about who shot him at Quad Recording Studios then Biggie would still be alive. He claims Pac shot himself (radio host Ed Lover also backed those claims) and then blamed Biggie for it.
As for Death Row Records founder Suge Knight, Flex explained that back in the day, people were NOT scared of Suge and that he didn't have any "weight" in NYC. Flex said he said what he's saying back when everything was going on.
Flex got super emotional in the clip, breaking down to tears at one point.
Check out his full IG Live clip below. He starts talking about the Tupac/Biggie beef at the 12-minute mark and breaks down crying at the 30-minute mark:
Sheesh! Was Flex wrong for bringing this up 20+ years later since Pac can't defend himself or nah?
For laughs, comedian Mike Epps posted up a funny video mocking Funk Flex:
Ha!
Speaking of Tip...
The Atlanta rapper just released his short 15-minute film "Us Or Else" which addresses police brutality and it's effect on the black community. It first aired first aired on BET on April 24th. The cinematic clip, directed by Mike Ho, is inspired from his album Us Or Else: Letter to the System. And it's very touching.
Check it out above.
Photos: Screenshot/Flex's IG