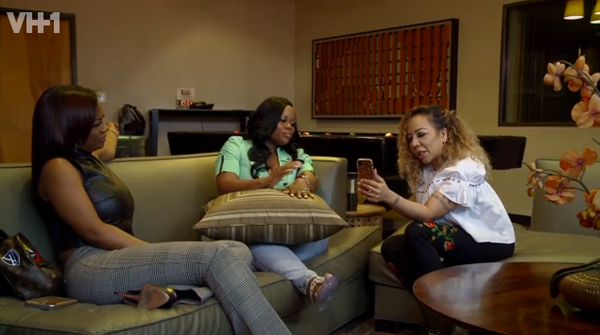 The Xscape ladies are pissed that TV One is working on an unauthorized biopic about their lives and they have plenty to say about it. Read their response and check out Fat Joe and Remy Ma's new video "Heartbreak" inside…
With the success of BET's "New Edition Story," several throwback music groups have considered airing out what went down behind-the-scenes during their come up. And 90s girl group Xscape is one of those groups.
The four ladies have teased about going on a reunion tour and recently revealed they are working on a biopic to dish on everything that went down between them. So imagine their surprise when they heard someone else is also looking to stack some coins without their permission.
According to the Atlanta Journal Constitution, TV One is currently working on an unauthorized biopic about Xscape, but the ladies – Kandi BurrussTucker, Tameka "Tiny" Harris and sisters LaTocha and Tamika Scott – have no input on the TV film.
Once they got word about the network working on the project (reportedly with So So Def founder Jermaine Dupri) they issued a statement expressing their disappointment.
"We feel the recent announcement of an unauthorized biopic on our lives is disrespectful and disappointing," the group said in a statement. "We are not, in any way, participating in that project and it will never 'represent' our true story."
We assume TV One decided they would cash in on Xscape's history after the group's "Unsung" episode received the highest ratings of any episode in the show's nine seasons. We wonder why they didn't just give them a call for the greenlight? Why would they decide to just team up with Jermaine (who helped produce Xscape's three platinum albums) and not include the ladies? Weird.
Either way, Xscape is working on their own biopic and they're currently shopping it around to different networks. It will be interesting to see how this will play out. Will TV One continue working on their separate unauthorized biopic or will they try and ink a deal with the Xscape ladies?
Find out what happened when the Xscape ladies came together for their first band meeting in 20 years below: 
On the music video front...
Fat Joe and Remy Ma just released the video treatment for their track "Heartbreak," a cut from their collaboration album, Plata O Plomo.
Set inside a gorgeous Miami villa, we see Joe and Rem living it up in the fast lane while partying in lavish cabanas and rocking luxury threads. The track, which serves up heavy island vibes, features vocals from The Dream and music group Vindata.
Looks like everyone had loads of fun filming the video treatment. Get into it above.
Photo: VH1