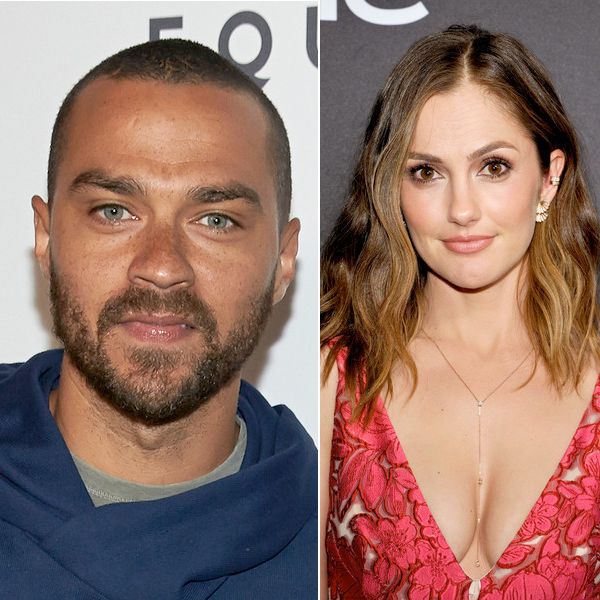 A timeline on Jesse Williams' (shady) situationship with Minka Kelly is coming to light. Sources say they have been "hooking up" since last year. Get the timeline of their affair, plus news about Betsy DeVos speaking at a HBCU inside…
We all did a collective SIGH when news broke that Jesse Williams and his wife Aryn Drake-Lee were calling it quits after 5 years of marriage (and after being together for 13 years total). And then, our eyes were rolling (hard) when it was recently revealed that the "Grey's Anatomy" star was likely hooking up with the "Jane The Virgin" star now that he's filed for divorce.
Now, details about his affair are coming to the forefront and apparently, the activist and actress have been seeing one another for quite some time. It was first reported the two met in Paris while working on a video game, but an unidentified source claims that's not true.
"They started seeing each other last year. He ended things with his wife this year," the source told Page Six. "He'll be in Paris with Minka later this week. People know (about the relationship), but weren't saying anything because he was still married."
The source went on to say that Jesse and Minka are "in lust" and that Jesse will eventually wake up and realize he made the wrong move.
While the source claims Jesse and Minka have been hooking up for over a year, a source close to Jesse insists they didn't meet until they started working on the video game overseas, despite both of them starring in Lee Daniels'The Butler together in 2013.
"They were both in the film, but never shot at the same time. They might have been at the same premiere event, but they never crossed paths. They only officially met when in France doing the video game. He's been separated from Aryn since at least last January. That's when they were officially starting to deal with the process of it all."
Mmhmm….who do you believe?
By the way, apparently reports about Jesse blocking alimony are not true. The source revealed they are allegedly hashing things out through mediation.
In other news....
Someone thought it was a good idea to book Secretary of Education Betsy DeVos to deliver the commencement speech at historically black college Bethune-Cookman University in Daytona Beach, Florida, the school announced on Monday.
Umm…
And get this, the school had the nerve to compare Betsy to the school's founder/civil rights activist Mary McLeod Bethune, stating the Secretary's mission aligns with Bethune's legacy. In what galaxy, we ask?
Needless to say, Bethune-Cookman alumni and several HBCU alumni are outraged that Betsy will speak at the university, accusing the school of whitewashing the school's rich history. Alumni want everyone to know they are NOT here for this commencement speech.  They launched a petition, urging Bethune-Cookman to take back the invitation. You'll recall, Betsy said publicly that HBCUs were created because of "school choice" as opposed to being created out of a response to racism and segregation.
Dominik Whitehead, an BCU graduate, launched the Change.org petition to stop Betsy from speaking at the May 10th ceremony. The petition reads:
"Having DeVos speak at the commencement ceremony is an insult to the BCU graduating class, students, alumni, family, friends, and Dr. Mary McLeod Bethune's legacy. We, the proud alumni of Bethune-Cookman University, do not want Betsy DeVos to have a seat at our table. Please rescind her invitation to speak at the graduation ceremony."

"We, the proud alumni of Bethune-Cookman University, understand the importance of engagement and open communication HBCUs must have with all levels of government; therefore instead of inviting Secretary DeVos to graduation, let's welcome her to the table and have meaningful dialogue about stronger policies, the White House HBCU Initiative, and the importance and contributions of HBCUs."
If you want, you can add your name to the petition here.
As of the time of this post, 4,645 supporters have signed the petition. They're just 500 names short of their goal.
By the way, Bethune-Cookeman University issued a statement on Twitter to clarify their comparison of Betsy to Mary McLeod Bethune: 
#BCUForward#SupportBCU#WhoSaidThatpic.twitter.com/jiubijdkMo

— Bethune-Cookman (@bethunecookman) May 1, 2017
What do you think about Betsy DeVos as the keynote speaker at a HBCU commencement ceremony?
Photo: Getty