Migos are coming under fire for comments they made about Nigeria and its citizens. Find out what has folks up in arms inside…
Atlanta rap group Migos are getting dragged online for comments they made about Nigeria during a recent interview. The trio was in the country recently for a performance, so they were sharing how they felt about the experience. But, some folks aren't pleased with how they described their trip.
Rapper Offset said: "We were surprised [with the reception] because it's a third world country and there's a lot of struggle in the city. To see that first hand was amazing. And for them to come to the show and know everything [lyrics] word-for-word."
Third world country?
He continued,"They were looking, they paid attention to everything that was going on. They knew word-for-word and their English wasn't even that good."
Check it:
Who smuggled these mofos @Migos into Nigeria? pic.twitter.com/Chv1uAOS4w

— Bhadmus H'akeem (@Bhadoosky) April 26, 2017
Needless to say, Nigerian Twitter quickly responded.  Especially since most think Migos, of all people, criticizing someone's ability to speak English properly is laughable at best.
there's this video of migos saying how they were surprised when they went to Nigeria. And their english wasnt that good... pic.twitter.com/zvyaarCuuc

— Shaolin Fantastic (@aidaas__) April 25, 2017
I love Migos but im going to need them to know that Nigeria is not a third world country . And our English is fine

— Ayomide A. ✞ (@EsteriTheAyaba) April 26, 2017
@HQonESPN@Migos lol ur English is worse ... u not real musicians don't know y they brought u here to lagos...... una for dey ibadan

— Tyko (@e1670d69883048d) April 26, 2017
Folks went in on our IG post about it too: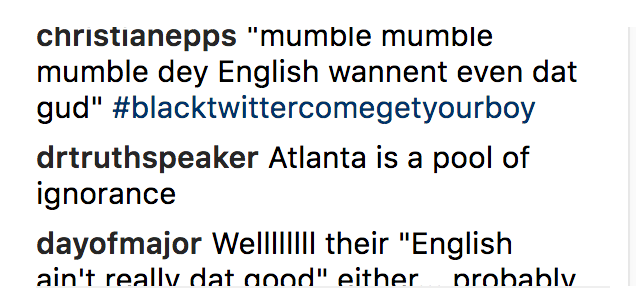 We don't necessarily think they were being malicious, but they definitely could use some media (and history and geography) training.
Photo: Getty