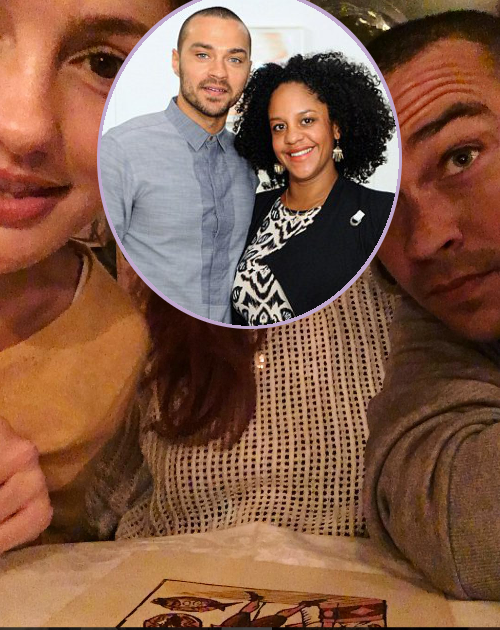 On the heels of Jesse Williams filing for divorce, the rumor mill is spinning about a possible thing going on between him and actress Minka Kelly.  Deets inside....
Woke bae went and got himself a brunette, this according to the gossip mill.
Just one day after news of Jesse Williams & Aryn Drake's divorce broke, the messy details are spilling.
Not only did Jesse file for joint custody of the estranged couple's two kids while denying Aryn any spousal support (even though there's no pre-nup), he's allegedly been publicly hanging out with "Jane the Virgin" star Minka Kelly.
A few weeks ago, a blind item was posted on a gossip site that hinted QUITE hard that Jesse Williams and Minka were the parties involved.  Two actors -- a married one in a hoodie with gorgeous eyes from a popular Thursday night tv show and the other has dated plenty of Hollywood men and athletes -- were spotted holding hands together in Paris.  And they were acting very couple-like.
Hmph.
Here's the full blind item posted:
"We walked along with them for almost three blocks in Saint-Germain-des-Prés. They were trying to be incognito. He was wearing a hoodie and she was wearing a cap but I recognized them immediately. He looked a little tense and was trying hard not to be noticed. She looked very happy and content. They were holding hands and being very romantic. They were definitely acting like a couple!"

She is a beautiful actress who has dated at least a half dozen famous men. She dated a ball player for many years and was recently linked to the that slimy actor who is more handy with his mouth than his fidelity.

You might know this actor by certain parts of his anatomy, like his beautiful eyes. He is on a very popular Thursday night TV show. The only thing you need to know about his relationship history is that he is MARRIED.
Here's what's interesting: Jesse and Minka (who famously dated Derek Jeter), snapped a pic together back in January in Paris.  They have been working on a new project together for the last several months:
Minka has also turned off all comments on her Instagram page.  Hmph! 
Today, Jesse was spotted for the first time since the divorce news. He was seen without his wedding ring, but was sending a clear message with the words, "Don't Believe the Hype" on the back of his jacket.
Chile...
Sources are also saying Jesse feels his marriage has simply fizzled out, while Aryn does not want the divorce.
Photos: Getty/Instagram