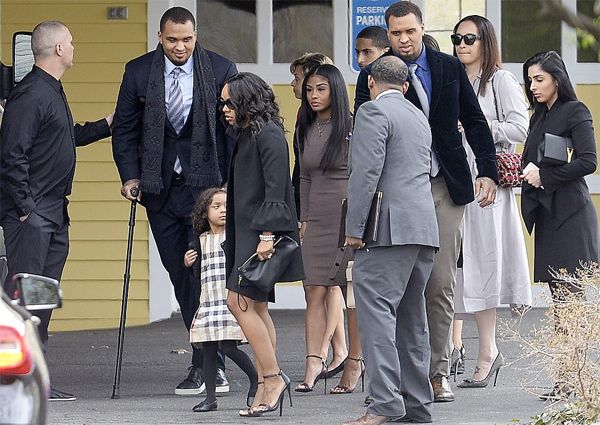 Aaron Hernandez's family laid him to rest yesterday in a private funeral service. Soon after, the third person her wrote a suicide note to was revealed after rumors of him having an inmate lover. Pics and deets inside…
The family of Aaron Hernandez said their final goodbyes in an invite-only funeral service held in his hometown of Bristol, Connecticut.
The former New England Patriot tight end reportedly committed suicide in his jail cell last week after hanging himself from a bed sheet tied to a prison cell window. He was serving a life sentence for the death of semi-pro football player Odin Lloyd. He committed suicide days after he was acquitted of murder charges in the shooting deaths of two men in Boston in 2012.
Aaron's fiancée Shaynna Jenkins (who's suing the Dept. of Corrections), his 4-year-old daughter Avielle, his mother Terri Hernandez (below), family, friends and former teammates turned out for the private funeral service. Police blocked the street in front of O'Brien Funeral Home to keep spectators away. Although, there were some people spotted on a hill looking down at those who came out to the funeral.
After the service, the family issued a statement via Aaron's lawyer Jose Baez thanking everyone for their condolences and asking for privacy as they mourn their loved one.
Just hours before the service, a Bristol Superior Court judge ruled that the estate of Aaron Hernandez would receive copies of the suicide notes he wrote before he took his life. It was previously reported he wrote three separate notes – one to his fiancée, one to his daughter and the other was rumored to be addressed to an alleged prisonmate lover.
Now, the third recipient's identity has been revealed.
Newsweek's Michele McPhee, Aaron's confirmed the third note was addressed to convicted robber Kyle Kennedy. There aren't any details about what was written in the note.
I've been able to confirm this man is Kyle Kennedy, the inmate Aaron Hernandez allegedly left a letter for. Live at 8 #Boston25pic.twitter.com/qeCYN9LWqz

— Catherine Parrotta (@C_Parrotta) April 25, 2017
According to 247Sports, the suicide note to Kyle Kennedy will shed light on the entire situation.
"[The letter] could back up an alleged motive for Hernandez to kill Odin Lloyd which is why he was in jail serving a life sentence in the first place and not in uniform for the New England Patriots. Lloyd reportedly knew about Hernandez's sexuality and could have passed that information along with his girlfriend who is the sister of Hernandez's fiancée."
Thoughts?
Photos: AP