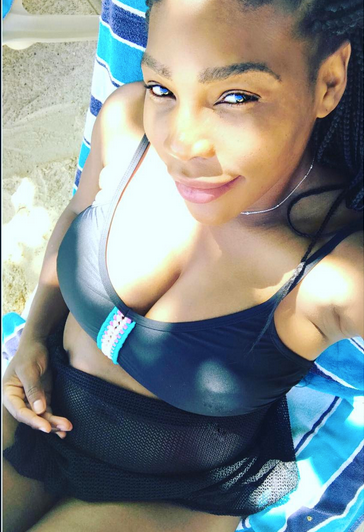 Serena Williams just reclaimed the No. 1 spot in tennis and to celebrate, she penned a very sweet message to her unborn "No. 1." Catch the feels, plus find out how she responded to tennis player Ilie Nastase's racist comments about her baby inside…
The new WTA rankings are in and Serena Williams has reclaimed the No. 1 spot, a week after revealing she's pregnant with her first child.
To celebrate being back on top, the tennis champ wrote a touching open letter to her unborn child that's super sweet. The 34-year-old mom-to-be wrote:
My Dearest Baby, You gave me the strength I didn't know I had. You taught me the true meaning of serenity and peace. I can't wait to meet you. I can't wait for you to join the players box next year. But most importantly, I am so happy to share being number one in the world with you.... once again today. On @alexisohanian bday. from the world's oldest number one to the world's youngest number one. -Your Mommy
Today is bittersweet for her husband-to-be/Reddit co-founder Alexis Ohanian. It's his birthday and it's the 102nd anniversary of Armenian genocide. He posted:
After Rena shared her special note to her unborn baby, she hopped back on Instagram to address racist comments made by former No. 1 tennis player Ilie "Nasty" Nastase. It's reported the 70-year-old Romanian was overheard making racist comments about Serena and Alexis' baby, allegedly saying "Let's see what color it has. Chocolate with milk?"
Ridiculous.
"Nasty" reportedly made the comment on Friday while one of his players, Simona Halep, was answering press questions about Serena before a Fed Cup playoff against Great Britain.
Rena clapped back at the racist remarks with facts and love, saying: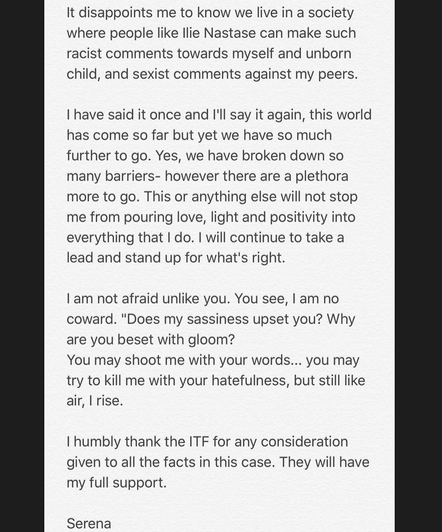 Now, an investigation led by the International Tennis Federation has been launched and Serena is backing the investigation 100%. Guess we'll have to wait and see if some type of punishment will follow his disgusting remarks...
The hate when it comes to Serena is SO real.
Photo: Serena's IG