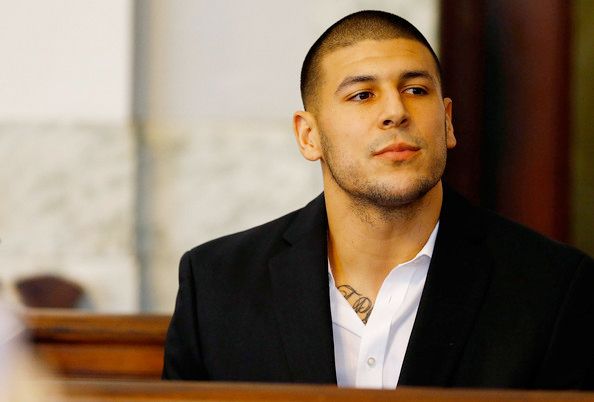 We have updates surrounding the alleged suicide of former NFL player Aaron Hernandez. Find out why his fiancée is suing the Department of Corrections and why the New England Patriots may still owe Aaron's estate $15 million inside…
Former Patriots tight end Aaron Hernandez reportedly committed suicide in his jail cell early Wednesday morning (April 19th). Prison guards claim they found Aaron hanging from a bed sheet in his cell.
But, Aaron's fiancée Shayanna Jenkins and his attorney Jose Baez don't believe he took his own life. They feel he may have been murdered. Aaron's attorney has launched an investigation into his death to prove he was killed by either fellow inmates or prison officials.
Reportedly, Shayanna is suing the Department of Corrections to ensure they preserve every single piece of evidence that could possibly prove he didn't kill himself. Shayanna, who is the mother of Aaron's 4-year-old daughter Avielle, filed paperwork asking a superior court judge to prevent state officials from destroying video recordings, physical evidence and prison records connected to Aaron's death, according to TMZ.
A judge is set to hear the case today (April 21st).
According to CBS Sports: 
Hernandez was serving a life sentence for the slaying of Odin Lloyd without the possibility of parole. He was found guilty for only one of the eight counts Friday: illegal possession of a firearm.

As a result, he was sentenced to an additional four to five years in prison. Hernandez was found not guilty of the remaining seven counts. He was also accused of first-degree murder, witness intimidation and shooting a witness -- Alexander Bradley -- in the face in an attempt to silence him.
Aaron's death was ruled a suicide by the medical examiner. Three handwritten suicide notes were found in his cell next to a Bible that was open to John 3:16. It's reported the notes were addressed to fiancee and their daughter Shayanna.
The third, according to a Daily Mail exclusive which has yet to be confirmed by officials, was written out to his alleged lover inside the prison. 
Although the existence of the notes was made public by prison officials Thursday, the Daily Mail is citing a "source close to the investigation" that one note was penned to a gay lover at the Souza-Baranowski Correctional Center in Shirley, Mass.
A source tells the Daily Mail that Aaron was planning his suicide for weeks leading up to his death. They claim the former NFL star had given away all of his personal belongings to other inmates.
The Worcester District Attorney's Office issued a statement regarding Aaron's death saying, "Chief Medical Examiner Dr. Henry N. Nields performed an autopsy on Mr. Hernandez on Wednesday and concluded today that the manner of death was suicide and the cause asphyxia by hanging."
"There were no signs of a struggle, and investigators determined that Mr. Hernandez was alone at the time of the hanging."
It's reported Aaron jammed cardboard into the door tracks of his cell to keep the guards from getting into his cell.
Now, there's speculation into why the former New England Patriot would have killed himself. One theory is that he did it so his daughter would be taken care of.
Under Massachusetts law, Aaron's estate could still get the remaining $15 million from his contract with the NFL team because he died while in the process of appealing his 2014 conviction for the murder of Odin Lloyd.
ProFootballTalk breaks it down:
Hernandez was still in the process of appealing his 2014 conviction of murdering Odin Lloyd, which means a legal principle dating back to English common law called "abatement ab initio" applies to his case. "Ab initio" translates to "from the beginning" and chief legal counsel to the Massachusetts Bar Association Michael Healy told the Boston Globe that the principle reverts a case to its start if the convicted party dies before the appeals process has concluded.

Healy said that civil proceedings in other cases involving the death of the convicted party were complicated because evidence established in the criminal trial cannot be used to make the civil case. "Unfortunately, in the Odin Lloyd matter, for the family, there won't be any real closure," Healy said. "Aaron Hernandez will go to his death an innocent man."
This means Lloyd's family would not be able to use evidence from the criminal trial in a lawsuit against Aaron's estate for civil damages.
Thoughts?
Photo: Getty