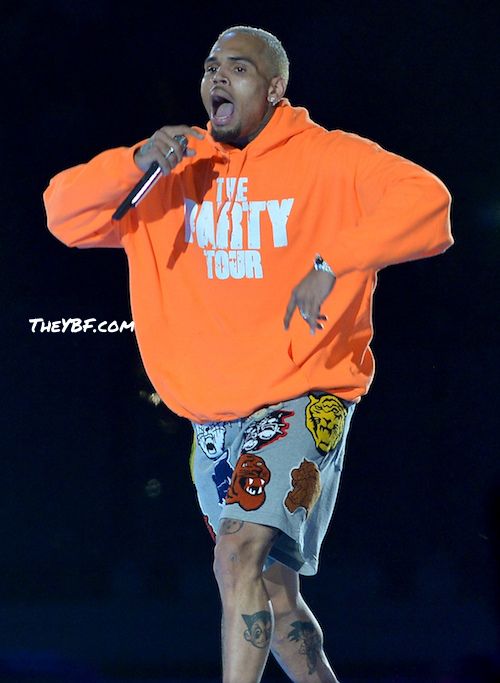 Here we go again.  Chris Brown allegedly "sucker punched" a club photographer at a club in Tampa early this morning.  Details inside...
Breezy is breezing through cities on his Party Tour.  But when he pulled up at his after party in Tampa after performing at Amalie Arena Sunday night, ish was more like a party foul.
Chris, pictured above performing at Miami's American Airlines Arena Saturday night, hit up AJA nightclub for his paid post-performance appearance late last night.  According to the Tampa Police Department, in the wee hours of this morning, Chris allegedly "sucker punched" photographer Bennie Vines, Jr. because he was taking photos. 
Police said that Chris left the club before police arrived.
It's unclear if photos being taken were or were not a part of his contractual agreement to appear.  Either way, if true, punching someone will never end well. Especially not for Chris.
Vines sent TMZ shots of his injuries that he says were caused by Chris.  He says his lip is split and he's headed to the hospital.  He also said he will for sure be pressing charges.
The club posted their side of the story on Facebook saying:
Dear patrons:

Incidents like the ones caused by Chris Brown and his team are very sad to see. As everyone witnessed he showed up to the club at around 1:30am. After only a few minutes of being there, Chris Brown himself and his team assaulted our club photographer and proceeded to walk out of the venue. AJA Channelside and our employees apologize for the inconvenience. Assault charges were pressed and we are dealing with the proper authorities accordingly.

We appreciate your constant support!
Chris is scheduled to hit the stage in Jacksonville tomorrow night.
Photo: WENN