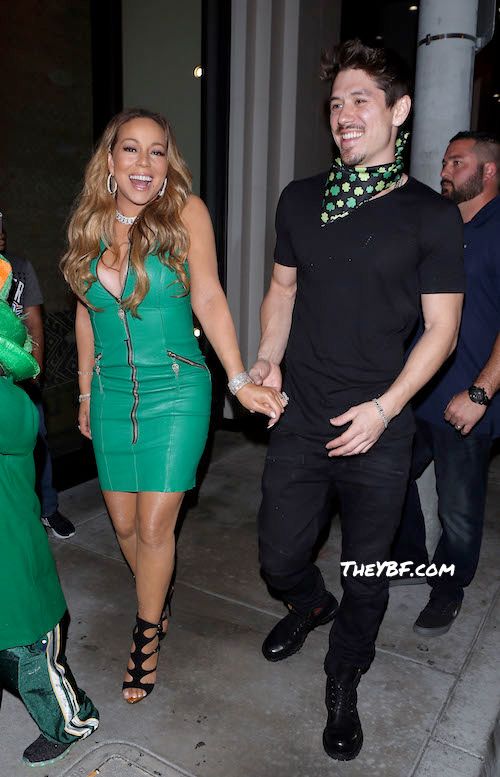 Mariah Carey and Bryan Tanaka have reportedly called it quits after 5 months of dating. And we hear Mariah's ex-husband Nick Cannon may have something to do with it. Surprised? More inside…
For some reason this doesn't surprise us.
Mariah Carey and her boyfriend/backup dancer Bryan Tanaka have reportedly called it quits already. They started hooking up after Mimi and her billionaire beau James Packer called off their engagement. And only lasted 5 months.
It was all good a few weeks ago when Mimi and Bryan were living it up in Cabo. But now, sources say the two haven't spoken since the trip.
It's being reported Mariah's ex-husband Nick Cannon has something to do with the breakup. According to TMZ, Bryan was allegedly jealous over Mariah and Nick's co-parenting relationship. He supposedly felt disrespected.
It's said Bryan totally lost it when the Grammy Award winning singer went with her ex-husband and their twins, Roc & Roe, to the Nickelodeon Kids' Choice Awards last month. In retaliation, Bryan began flirting with other chicks right in Mariah's face.
Oh, and there's more.
Its also reported money was another issue in Mariah and Bryan's uncoupling. Apparently, Bryan's expensive taste also contributed to them calling it quits. The Elusive Chanteuse singer got tired of shelling out cash for Bryan's luxury items, which eventually led her to thinking that Bryan was simply using her for the fame. No surprise there.
It seem there's a blueprint to good albums following a bad breakup. And now that Mimi has gone through two recent public breakups, she's now focusing on the music.
Epic Records has announced a new joint partnership with the singer's Butterfly MC Records and the Sony Music Entertainment label for a new album. And, according to Variety, Mimi's next album is set to drop later this year.
Get ready for a FIRE album Lambly.
Photo: FameFlynet