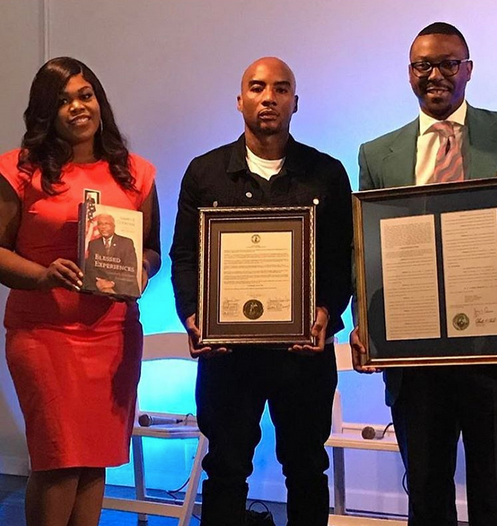 Charlamagne Tha God's hometown of Columbia, South Carolina showered him with love yesterday. He copped his very own day and was super excited about it. More inside…
There's a new hometown hero in Columbia, South Carolina.
Power 105 radio personality Charlamagne Tha God was awarded his very own day in his hometown yesterday.
It was a total surprise too. He was tapped as the keynote speaker for the C3 Conference, an event to expose entrepreneurs on how to brand themselves, and then he was presented with a plaque to declare Saturday, April 8, 2017 as "Charlamagne Tha God" Day.
Here's a close up of his plaque:
That's what's up. Being the prince of petty and pissing people off pays off when you can build an empire from it.  He's been killing it with the Brilliant Idiots podcast, his new book Black Priviledge and a few shows on MTV.  Gotta respect the hustle.  Congrats Charlamagne!
BONUS:
Last weekend, Big Sean was presented with the key to the City of Detroit by Mayor Mike Duggan. He made history as the youngest person ever to receive the key to the city. Nice! And as she you can, he's doing big things in his hometown. Congrats Big Sean.
Photo: @columbiacareconnect