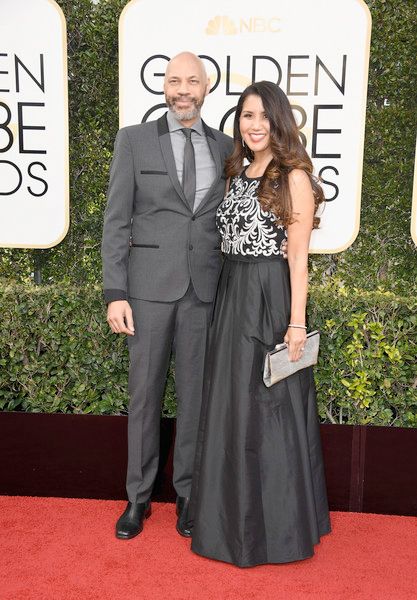 So, screenwriter John Ridley thought it was a good idea to cast an Asian woman to lead his Black power movement series "Guerrilla" and folks are NOT happy about it. Hear his ridiculous explanation inside…
So, here we are trying to figure out why Oscar winning screenwriter John Ridley chose an Asian woman to lead his black power movement series "Guerilla." And apparently, so were most journalists at the recent screening.
The six-part series is set to follow a group of activists in the British black power movement of the 1970s.
According to Screen Daily, John cast Indian actress Freida Pinto to star as Jas Mitra, an Asian woman at the center of the conflict who drives much of the narrative, at least in episode one.  Yes, you read that right.
John, the cast and crew participated in a Q&A following the screening of episode 1 in the UK and several attendees had some tough questions for John. In particular, why was an Asian woman leading the charge in a show about how black people struggled for civil rights.
An emotional John Ridley engaged in a heated debate about race at last night's premiere of his new series #Guerrillahttps://t.co/LTsxmdh9Pvpic.twitter.com/S0wpZc9hbE

— Screen International (@Screendaily) April 7, 2017
One attendee asked, "My parents were a part of that movement [black power]. I want to understand why you decided [to make] an Asian woman the main protagonist." She noted the only prominent black female character in episode 1 is an informer against the movement for a racist, white police officer.
She continued, "I understand the contribution of Asians to this, but having an Asian protagonist making all the big decisions… does that get explained in subsequent episodes? We can't ignore that."
John replied, "To me, everything that you're saying is exactly why that decision is so important. The fact that it's difficult to accept someone, even though they are of color, of being with us…"
"If everybody understood racism, oppression… there would be no reason to be doing this show. We would be doing Dancing With The Stars. If there are things that are difficult to understand, accept, rationalise, despite the fact that if you understand the struggles of that time period… those elements are not made up, those are real."
John then gets personal, mentioning the struggles of his Asian wife Gayle (pictured atop):
"I don't want to make this overly personal, but part of why I chose to have a mixed race couple at the centre of this is that I'm in a mixed race relationship. The things that are being said here, and how we are often received, is very equivalent to what's going on right now [in the wider world]. My wife is a fighter, my wife is an activist, and yet because our races our different there are a lot of things we have to still put up with."
Folks were outraged at his responses, one person pointing out that the show was "the erasure of black women."
"I said previously, I think the characters in this story are complicated across the board, so the concept that any one person is somehow better, or more elevated, or more appropriate than any other individual, I'm sorry, I don't accept that."
The way he dances around the question is so crazy. Why cast an Asian woman (who's technically Indian) to play a role that a black woman should be portraying? Do they hate black women THAT much? We don't get it. Do you?
By the way, The Independent says Black Lives Matter activists were invited to the live discussion. And once they started with questions, Frieda ended up in tears:
"She sat at the front of the stage and tears rolled down her cheeks as John tried to get them to understand that being called Black in the Seventies referred to all people of colour from former British colonies."

"John then spent around 40 minutes trying to speak to [the activists] after the event, but they were really rude in rolling their eyes and answering back saying he didn't understand. It was ridiculous following his background."
"Guerrilla" is set to premiere on April 16th on Showtime. Will you be tuning in?
Photo: Getty