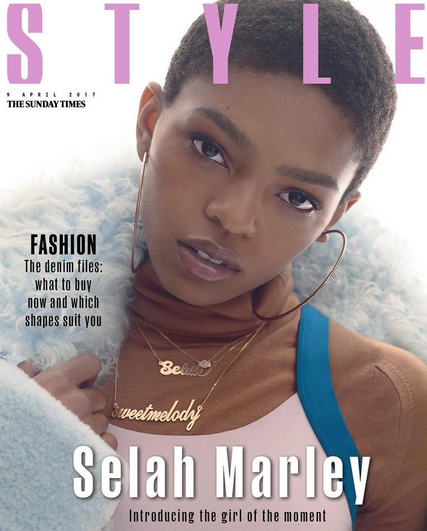 Selah Marley is gracing the cover of the Sunday Times magazine and she's a gorgeous spitting image of her mother Lauryn Hill. Peep her cover, plus the adorable shots of Baby Future and Baby LunaSimone meeting the Easter Bunny inside…
Selah Marley is blossoming into a gorgeous young lady and she's the spitting image of her mama.
The 18-year-old, who is the daughter of Rohan Marley and Lauryn Hill, graces the cover of The Sunday Times in all of her natural beauty. And we're all the way here for her #BlackGirlMagic. Chick is effortlessly slaying the magazine circuit. And she's seriously on her model game. She has ripped the runway in a Chanel show, posed it up in a Calvin Klein ad, and she was a part of Kanye West's Yeezy Season 5 show during NY Fashion Week.
Not only is she a cover girl, she's also one of the new faces of Beyonce's Ivy Park athleisure collection.
She recently gushed to VOGUE, "I'm very honored that these huge icons [Beyonce & Kanye West] have chosen me. I feel great that these people who I respect so much admire me and my style."
Selah said her mother is her biggest fashion influence and she also loves Rihanna's edgy style."I think my mom for one is incredibly fashionable, she revealed. "She's the one who exposed me to the fashion world simply because of everything that she has. Our basement is literally like a museum of couture! It's insane. I can go shopping down there, and I do. I also love Rihanna. I think she's dope. I love the way she dresses up. I have a million screenshots of her in my phone. If I had to give it to anyone, I'd give it to those two people."
Get it Selah!  Making grandpa proud.
As for the young YBF kiddies...
It's almost Easter Sunday, which means, it's time to meet the Easter Bunny!
Pregnant Ciara took her baby boy Future Wilburn to meet the Easter Bunny and baby Future was all smiles. His little smile is the absolute cutest. Next year this time, CiCi will have TWO babies meeting the Easter Bunny.
John Legend and Chrissy Teigen's daughter Luna Simone also met the Easter Bunny this week. Look at that smile!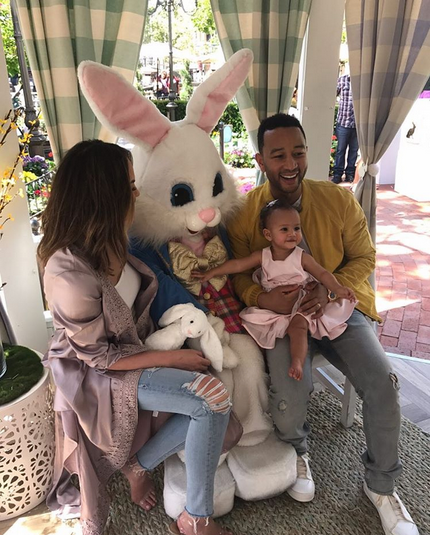 Her parents joined her for a few family shots with the Easter Bunny.
Oh, and John got shaded on social media over his Easter outfit. In a tweet, the character Arthur fired a funny shot at John over his very similar ensemble. Chrissy caught wind of the tweet and responded:
Whoa u shady as f!! *follows* https://t.co/ZA1e1OMKyo

— christine teigen (@chrissyteigen) April 6, 2017
Ha!
Photos: Sunday Style's IG/Ciara's IG/@pepperthai2