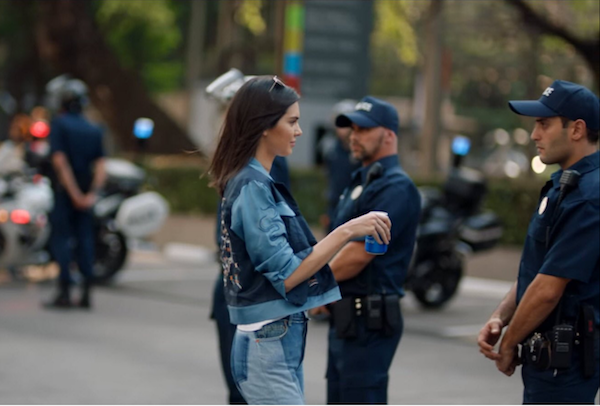 So, this soft drink company just found what they thought was the perfect way to sum up the current fight against ill will, oppression, racism, sexism and every other -ism in society: Have Kendall Jenner hand a cop a Pepsi.
*Rolls eyes* Deets inside chile...
Pepsi Global just dropped a video ad that they title "Live For Now Moments Anthem" starring Kendall Jenner & feat. "Lions" by Skip Marley.
We'll give 'em points (well, a point) for tapping a Marley to use his song about a peace-driven ad.  But that's about it.
This new ad is already a trending topic, but not for good reason. 
Pepsi decided to tap Kendall Jenner to basically cure all the ails of society, basically by having her skip into a protest she didn't even know was happening and hand a cop a Pepsi.  The cops don't even flinch when she approaches.  Everybody breaks out into celebration and dance and apparently all is right with the world, including all the oppression everybody was marching against in the first place.
Yes, the billion dollar company put their heads together and came up with "Let's put in the representation of white privilege, a chick who barely if ever even acknowledged any of the uprisings happening across America, to represent the cure for oppression and police brutality."
Folks are going all the way in on Pepsi for this tone deaf ad, include major advertising companies and mainstream tech companies like Digg.  It's tone deaf.  But sadly, it's accurate AF.
Many white women have been on the sidelines of the fight for inclusion and equality (and unaware a rally or a fight was even happening until it LITERALLY is put within an inch of their face) because they're more worried about their own beauty, husbands, careers and first world problems. Then, when they decide to "join" the fight, they do the absolute least and get credit for solving the entire world's problems.
It literally happens every day.  So, sadly, the ad was spot on.
The tweets do have us laughing to keep from crying though:
.@pepsi y'all could've just hired the real person. pic.twitter.com/Om2RFAv4YO

— bri (@bigshitxtalker) April 4, 2017
?????? so what, she's not only a model, but she's "for the people" too?? and the police nice as long as the got a pepsi??? whet is this mess https://t.co/Glj5w0QQeU

— Sakinah K. Muhammad (@Kinah_KM3) April 4, 2017
Who thought an ad using the themes of resistance ending with Kendell Jenner handing a cop a Pepsi was a good idea? https://t.co/dqlss7kFbT

— Michael Arceneaux (@youngsinick) April 4, 2017
Kendall Jenner gives a Pepsi to a cop and rids the world of -isms. Y'all can go somewhere with this tone-deaf, shallow and over-produced ad. pic.twitter.com/CEr4cAw3Ld

— Taryn Finley (@_TARYNitUP) April 4, 2017
that ad is disgusting. i feel sick to my stomach after watching it. i feel like i just drank a pepsi.

— quinta b. (@quintabrunson) April 4, 2017
i get it now. if black lives matter protesters would've handed a pepsi to the cops they wouldnt of gotten tear gassed. it's so clear now.

— quinta b. (@quintabrunson) April 4, 2017
I took one nap and woke up to Kendall Jenner and Pepsi ending police brutality in America. Amazing.

— NUFF
u couldnt make it 2 the women's march but u were able 2 make it 2 the fake non-descript protest march n collect a fake woke pepsi check. bet

— BRANDON WARDELL (@BRANDONWARDELL) April 4, 2017
Just sayin'....