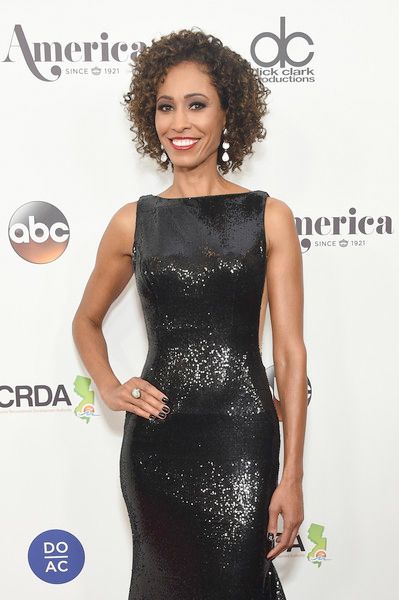 ESPN is shaking things up! The network just gave Sage Steele the middle finger and replaced her with a white woman. Oh, the irony. More inside….
ESPN just handed Sage Steele, host of the NBA Countdown, her pink slip and will no longer be needing her services to host NBA games, the playoffs or the Finals. It's being reported Sage got the boot and will be replaced by a white sports host Michelle Beadle. And they did it RIGHT before the season gets exciting as it goes into the playoffs.
The irony!
ESPN's just issued press release reads:
ESPN today announced that Michelle Beadle has been named the full-time host of NBA Countdown on ABC and ESPN. In this role, Beadle will lead the company's NBA pre-game and halftime shows, including for the NBA Finals on ABC. She will also host ESPN's and ABC's studio coverage throughout the NBA Playoffs, which includes ESPN's exclusive coverage of the Western Conference Finals.
Michelle is now the full-time host on "NBA Countdown" and will lead the network's coverage throughout the postseason, including the Western Conference finals and the NBA Finals on ABC. Welp!
It's unclear if Sage will stay on with the show or network in a different capacity, but it sounds like chick will no longer be a part of ESPN's NBA coverage…at all.   Damn.
We wonder if she still feels like the worst racism she's experienced came from black people? Hmph. There's no word on WHY they seemingly gave her the axe, so we're curious to know.
Of course, Black Twitter is having a field day and popping the proverbial bottles with news of her firing.
I root for all my sistas in the media business.... except that one bitch! Fuck her!

— Miko Grimes (@iHeartMiko) April 4, 2017
When Keeping It White Goes Wrong, starting the bed-wench of the Panama Canal Zone, @sagesteele. #CooningForCoinshttps://t.co/dwBO2BKbiH

— Miko Grimes (@iHeartMiko) April 4, 2017
Sage Steele looking at Stacey Dash in unemployment pic.twitter.com/0olx1kW9Bq

— OG Ronny Swanson (@TChalla_Jones) April 4, 2017
Sage Steele got fired!? pic.twitter.com/cXklAOMAto

— ☇Arturo EL Negro☇ (@A_Corder) April 4, 2017
First time ever black ppl are happy that a black person losing their job to a white person. Bye Sage Steele. LOL pic.twitter.com/ofywh9GM0j

— Jay Anderson (@jayserius) April 4, 2017
When ESPN broke the news to Sage Steele that she was getting replaced on NBA Countdown: pic.twitter.com/QmIzowFC5c

— BK (@bk17__) April 4, 2017
Sage steele getting replaced by her idol....a white woman

The irony

— Titty_Pharaoh (@Ay_fiddy) April 4, 2017
ESPN getting @sagesteele outta here?!?!?! pic.twitter.com/5GrFQbSl7C

— Squirrels, Playswith (@MikeSceezie) April 4, 2017
These tweets tho! The comments on her Instagram are in shambles as well.
Needless to say, folks are rejoicing that she's no longer "cooning" (Twitter's words, not ours) on television.
Photo: Getty