After this week's news of the huge shakeup at BET, there's a shakeup to the shakeup.  Details on the network's battle with one of the top employees named to be leaving inside...
Despite BET President Debra Lee announcing this week that Head of Original Programming Zola Mashariki is departing the network, Zola says she is on medical leave and her job is protected.
Sounds like someone didn't even tell Zola what was happening back at work.  The supposedly well-respected exec, who is currently battling breast ccancer, sent a memo to her team saying there surely must be a misunderstanding that her name was included in the same memo announcing Stephen Hill's departure.  Here's her statement in full:
Hi team,

As many of you know, I was diagnosed with breast cancer in December and have been out of the office and on medical leave since my first surgery on February 6. I just had another surgery last week and it is a painful recovery for me. It has also been hard on my children.

Thank you all for your kind words and support while I have been out. I miss you too!

I heard yesterday that Stephen was leaving BET. I'm concerned that there was a reference to me, as Stephen's departure is a separate issue from my status at the company.

Here are the facts: I am on medical leave. My job is protected by the Family Medical Leave Act and related statutes (FMLA) and I have a contract in place. Viacom/BET are aware that I am scheduled to return on April 11 and that my medical leave may need to be extended depending on the progress of my recovery.

Bob Bakish has said our company values should be honesty, empathy and bravery. I agree with this wholeheartedly and our team has embodied this over the 2 years we have worked together. Without question, including me in Stephen's departure announcement in not in keeping with those values.

I am continuing to focus on improving my health. I have faith in the Viacom/BET leadership and know they will fix this. I have a long history in Hollywood and am grateful for the outpouring of support I have received across the entire industry during this difficult time.

Our Original Programming team has accomplished a lot in a short time and the filmmakers and community are excited to work with us again. There is so much more to do.

All my best, Zola
BET today basically reaffirmed that Mashariki is no longer employed at the network, saying in a statement:
"These claims misrepresent the facts and are without merit. We strongly deny any allegation of wrongdoing."
Deadline states:
According to network sources, Mashariki was terminated on grounds of performance issues that came before her medical leave.
Wow. 
Folks were pretty up in arms about the situation, namely Nas' manager Anthony Saleh who recently sold Nas' new show to the network.  He didn't hold back on Deb or BET: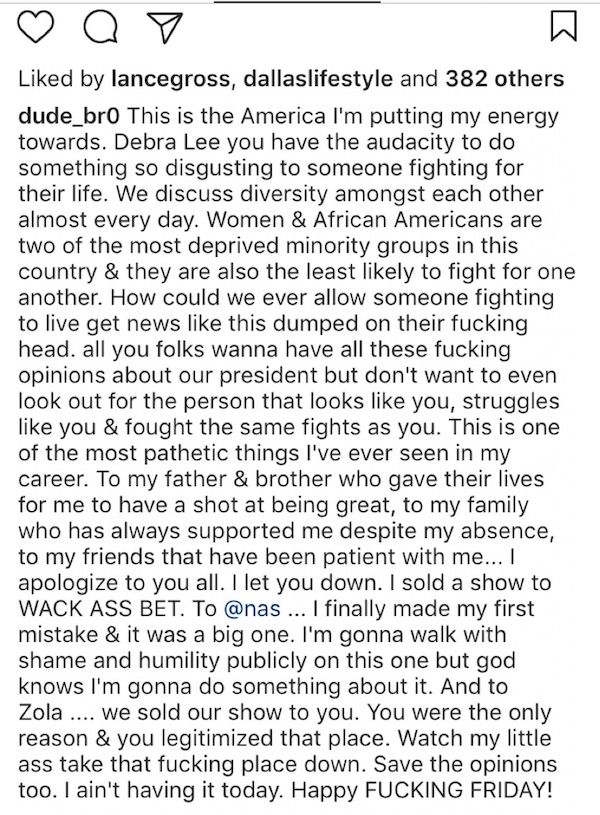 It's interesting to note, we're told Debra Lee wasn't necessarily the person who made the final decision.  How much of a role BET's parent company Viacom -- who's going through its own shakeup -- had in these firings is yet to be seen.
Photos: Getty/Instagram