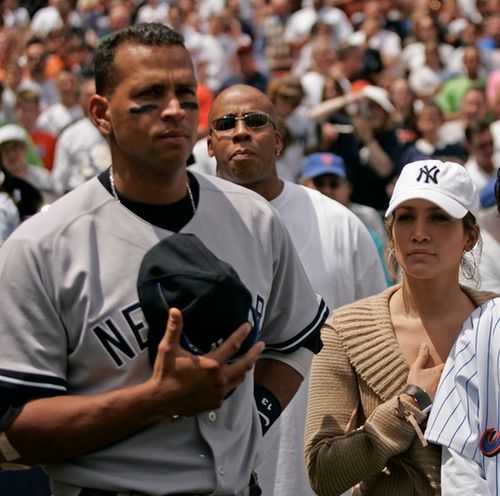 When you get hit with a lawsuit but your new bae is singing your praises to world....
Find out what Alex Rodriguez dished about his new boo J.Lo, plus deets on her new legal woes, inside....
Cute! These two are finally admitting to what we've been seeing go down for weeks. Alex Rodriguez hit up "The View" today and was quite chatty about dating his new lady Jennifer Lopez.
While Jenny hasn't spoken a peep about him (yet), she's been hopping all around the globe with the legendary Yankee while embarking on this new romance.
Now, A-Rod is opening up about her.  And it's adorable.
When the ladies of "The View" asked about his new romance today, he played a little coy, then dished on everything he likes about her saying:
"We're having a great time — she's an amazing, amazing girl.  She's one of the smartest human beings I've ever met.  And also an incredible mother."
Awwww!
POWER DUO! @AROD talks his relationship with @JLo: "We're having a great time — she's an amazing, amazing girl" pic.twitter.com/hoD17z6yJu

— The View (@TheView) March 31, 2017
He also dished on her guilty snack pleasures: Ice cream and cookies. Ugh, we knew she was our kindred spirit.
Menwhile, a hoverboard company isn't gushing about the "Shades of Blue" star, at all.  They just slapped her with a lawsuit for, wait for it, insufficient hoverboard enthusiasm.
CNBC reports the Sidekick Group is suing her for not following through on the Twitter & Instagram promotional plan they agreed upon:
According to Sidekick Group, the company gave Lopez 42 custom hoverboards back in 2015 for her to use during a Planet Hollywood show in Las Vegas, Variety reported.

Under their agreement, Lopez would also post about Sidekick's hoverboards at least once every three months, either on Twitter or Instagram, the now-active lawsuit said — something she didn't end up doing.

Sidekick's lawsuit alleges that its hoverboards were selling for $1,295 each at the time of this debacle. The suit seeks damages of $54,390, or the retail value of 42 hoverboards.
By the way, Jennifer did tweet about it once.
Photo: Getty