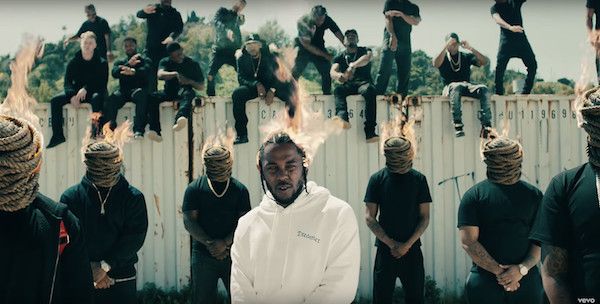 Kendrick Lamar is THAT dude, and he knows it.  So why not drop a song and video with the ironic title of "Humble."  Check it inside...
Kendrick Lamar just dropped his second new track in a week.  And once again, it's all about why he's the greatest rapper alive. Who's really going to challenge him on that though?
In the Dave Meyers-directed un-"Humble" AF video, Kendrick is portrayed as Steve Jobs, a young Pope, a Grey Poupon spokesman and, oh yeah, him and his homies with their heads literally blowing up.
Kendrick spit some truths about his now privileged life that he earned from being real:
This shit way too crazy, ayy, you do not amaze me, ayy I blew cool from AC, ayy, Obama just paged me, ayy I don't fabricate it, ayy, most of y'all be fakin', ayy I stay modest 'bout it, ayy, she elaborate it, ayy This that Grey Poupon, that Evian, that TED Talk, ayy Watch my soul speak, you let the meds talk, ayy If I kill a nigga, it won't be the alcohol, ayy I'm the realest nigga after all, bitch, be humble
Check out the follow up to"The Heart Part 4" above.