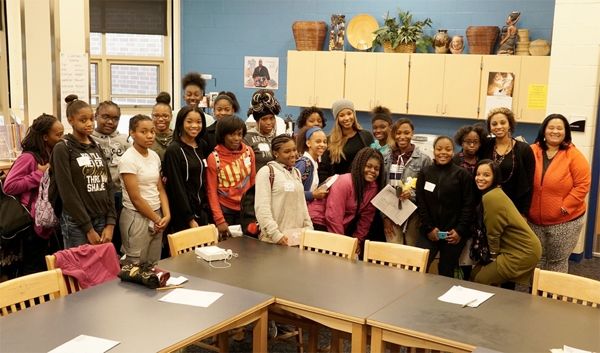 Savannah James is launching a new mentorship program for young girls in her hometown of Akron, Ohio. And it's going to be everything the young ladies will need to help them successfully get through high school. Details and pics inside…
LeBron James' wife Savannah James is more than just the wife of an NBA baller. She's dedicated to giving back to the youth in her hometown.  And that's why she's one of our faves.
The NBA WAG launched a new mentorship program called "Women of Our Future" at her alma mater Buchtel Community Learning Center earlier this month. The program will start mentoring 16 high school students, who are a part of the inaugural class, to help empower and inspire them as they navigate through high school.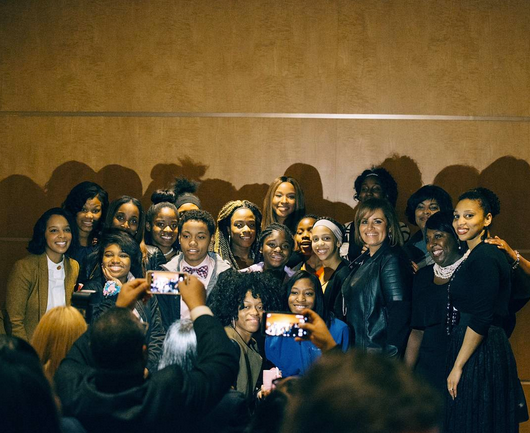 "Women of Our Future," in collaboration with the United Way of Summit County iC.A.R.E. mentoring program, will offer the Akron ladies one-on-one mentoring, academic support and constant encouragement as they pursue their education.
"I wanted to start the 'Women of Our Future' program because I know the struggles and pressures a lot of these young women are facing during these tough high school years, and I want them to know they are supported every step of the way," Savanna said. "I'm passionate about empowering and encouraging these young women because they are the future leaders of our community. I'm honored and excited to be in a position to work with them."
Sweet!
Savannah's new mentorship program will add to her philanthropic efforts. In 2013, she launched the I PROMise Makeover, which is an annual event that encourages Akron girls to be confident, and assists those ladies who need help with getting ready for prom. She also volunteers for her husband's LeBron James Family Foundation to help Akron students achieve their dreams through education.
Loves it!
After kicking off her program, the mother-of-three was honored  at the "For Women, Forever" annual dinner, hosted by the Women's Endowment Fund of Akron Community Foundation. And LeBron gave her the sweetest shoutout.
BONUS:
Peep LeBron and Savannah's daughter Zhuri adorable dance moves with her big brother Bryce above!
We can't even deal with all that cuteness!
Photos: @4starinc