Bill O'Reilly TRIED it. His disrespectful a** tried to shade Rep. Maxine Waters, but she shut him all the way down. Get it all inside…
Yesterday, Fox News troll host Bill O'Reilly spewed some disrespectful comments aimed at black Democrat Maxine Waters over her hair. During "Fox & Friends," Bill responded to Maxine's comments where she said criticism of the president was patriotic. Here's his lame response:
"I didn't hear a word she said. I was looking at the James Brown wig," he said.
Bill's co-host Ainsley Earnhardt jumped in the defend Maxine:
"You can't go after a woman's looks," she said."I think she's very attractive."
Then, Bill replied, "I didn't say she wasn't attractive... I love James Brown, but it's the same hair."
Well, Maxine responded to his tasteless joke and set the record straight: She's not going ANYWHERE and she will not be intimated. She appeared on MSNBC's "All In With Chris Hayes" with a direct response to Bill O'Reilly. Check it:
I am a strong black woman. I cannot be intimidated, and I'm not going anywhere. #BlackWomenAtWork

— Maxine Waters (@MaxineWaters) March 29, 2017
That's right Rep. Waters! 
MSNBC host Joy-Ann Reid perfectly summed up the situation: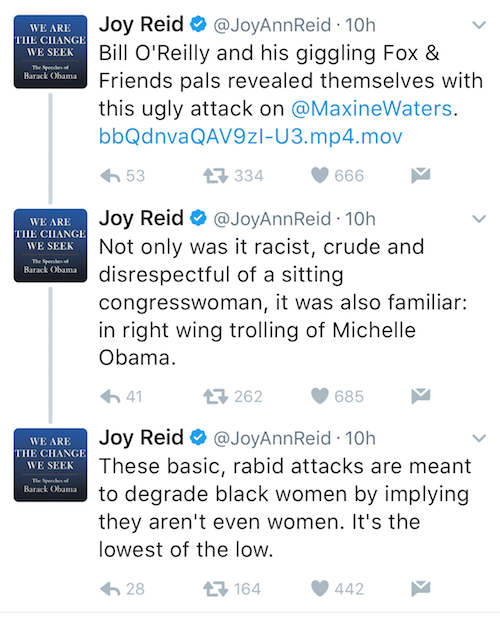 .@MaxineWaters after dismantling three men in five minutes for their shabby treatment of women. pic.twitter.com/sSto5PGKEQ

— Joy Reid (@JoyAnnReid) March 29, 2017
CNN contributor Angela Rye lashed out at Bill O'Reilly, telling him to go to hell.. TWICE!
Go straight to hell, @oreillyfactor. Straight to hell! #keepMAXINEoutyourmouthhttps://t.co/7Myh3KJuIh

— a. rye (@angela_rye) March 28, 2017
Go straight to hell twice @oreillyfactor!! https://t.co/OBAtskhETI

— a. rye(@angela_rye) March 29, 2017
Bill O'Reilly evenutally issued an apology to Rep. Waters, calling his remarks a "joke":
"As I have said many times, I respect Congresswoman Maxine Waters for being sincere in her beliefs," he said in a statement. "I said that again today on Fox & Friends calling her 'old school.' Unfortunately, I also made a jest about her hair which was dumb. I apologize."
Yeah, he tried it. But he got read by the #BlackWomenAtWork! 
EXTRAS:
1. White House Press Secretary Sean Spicer snapped at White House correspondent April Ryan during a White House press briefing, telling her to "stop shaking your head!" STORY
Photo: Getty