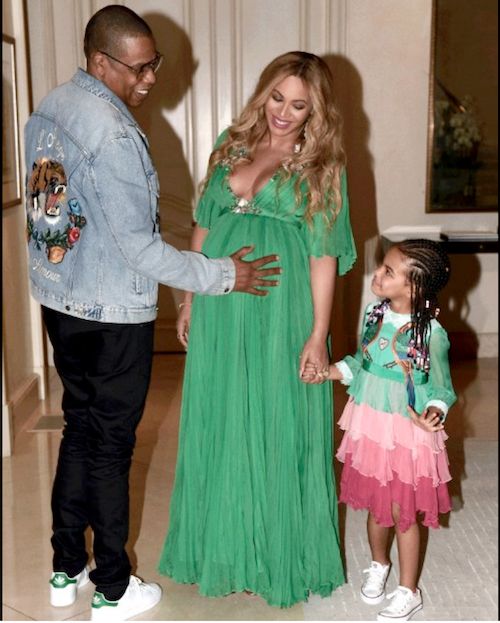 The Knowles-Carter Family enjoyed a special lunch together to kick off their YBF Weekend and we've got the deets. More inside…
Family time!
Jay Z decided to plan a special afternoon with his three favorite ladies, including his pregnant wife Beyonce, 5-year-old daughter Blue Ivy and his mother Gloria Carter.
On Friday, the Knowles-Carter clan kicked off their YBF Weekend with a family lunch at Gjelina restaurant in Venice, California.
Beyoncé, Jay Z & Gloria Carter spotted at Gjelina restaurant in Venice, CA (Mar. 24). pic.twitter.com/mR85BfxIZl

— BEYONCÉ LEGION (@Bey_Legion) March 25, 2017
Spies on the scene tell E! News the Carters made a grand entrance as a motorcade pulled up in front of the eatery. A pregnant Bey, clad in a boho threads, was spotted getting out of one of the three Escalades. Meanwhile, Hov rolled up in Tesla and his mom rode with him.
The Carters dined in the back of the restaurant for about an hour before security guards escorted them back to their vehicles. After lunch, the group made their way to Def Jam Records' offices where they picked up a woman and drove away.
Even though Bey is pregnant, she is still taking time to help others...
Mrs. Carter made a dream come true for one of her special fans earlier this week. High school student Ebony Banks, who has stage four cancer, got a surprise Facetime call from her "hero" Beyonce, according to KIAH.
Ebony attends Alief Hastings High School in Houston, TX, but she has spent most of her senior year in the hospital fighting the rare stage four cancer. After putting together a special graduation for Ebony (aka "Ebob") at the hospital, her friends started the #EBOBMEETSBEYONCE hashtag in hopes of catching Bey's attention so Ebony could meet her. And it worked! The power of social media.
Peep a clip from Ebony's chat with Bey above.
Photo: Beyonce.com