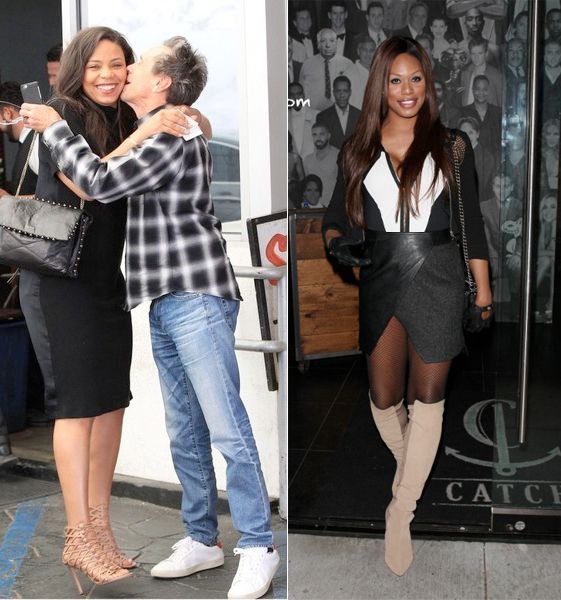 Sanna Lathan and "Shots Fired" executive producer Brian Grazer do lunch in Beverly Hills following their new show's premiere. Peep their cheeky flicks, plus shots of Laverne Cox dining with a friend inside…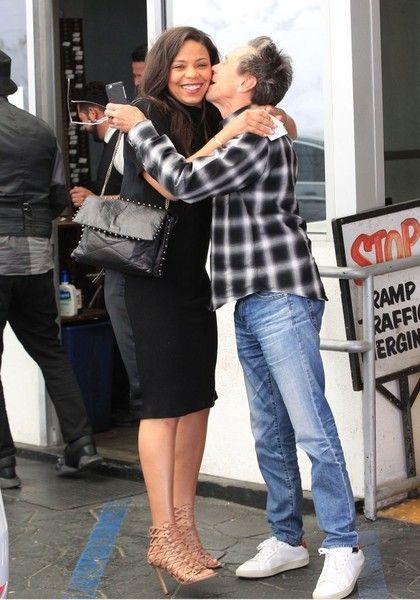 The brand new cop drama "Shots Fired," starring Sanaa Lathan, debuted on FOX this week. To celebrate, the leading lady and executive producer Brian Grazer linked up for lunch in Beverly Hills yesterday. It was all love between the two as Brian laced Sanaa with a kiss on the cheek as they exited the restaurant. 
"Shots Fired" is a new miniseries that addresses police brutality in America, but with a twist. A black cop shoots a white teenager in the series and it explores the major differences in how race dictates how the situation is treated.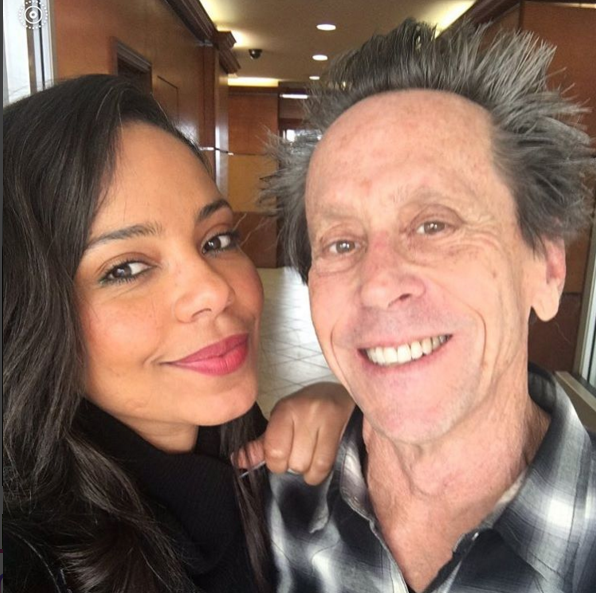 Sanna recently spoke with VOGUE about playing a female DOJ investigation officer and how filming the series correlated with similar events that were actually happening around the country.
"I knew whatever [the Bythewoods] put their hands on was going to be good," the YBF actress says. "The fact that it was such a timely subject that needs to be dealt with in our country today was the cherry on top."
The 45-year-old actress reflected on how emotions were running high during filming last summer on the day after Philando Castile was shot dead by a police officer in his car with his girlfriend and her young daughter inside with him.
"It was chilling, the synchronicity of what was going on and the subject matter of what we were shooting. [We began filming] one day after Philando Castile was shot—he was the one who was in the car with a baby in the back and his girlfriend in the [passenger] seat—we couldn't believe it; we were stunned," she remembers. "The first AD was in tears; it was hard for her to even start the day. We had to take a moment of silence and regroup and really remind ourselves of what a big responsibility we had dealing with the subject matter."
Since "Shots Fired" is a miniseries, we wonder if they are working on another project together.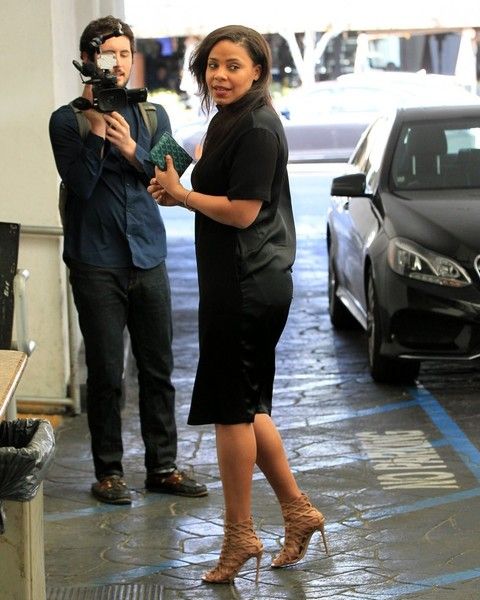 Be sure to catch Sanaa, along with Stephan James and Mack Wilds, in "Shots Fired" every Wednesday at 8/7c on FOX.
Elsewhere in the city...
"Orange Is The New Black" star Laverne Cox is always on her A-game when she hits the streets. Last night, the EMMY nominated actress was spotted leaving CATCH restaurant in West Hollywood after dining with her actor friend Paul McGill.
Laverne dubbed her night out on the town as a healing session as she caught up with her friend, captioning on Instagram,"What a healing night seeing my old friend @paul_mcgill_. Love you Paul."
And the feelings are mutual. Paul captioned,"Tonight reminded me the power of friendship. This woman gives me deep hope, deep understanding, and deep cleavage."
Ha!
In other TV news...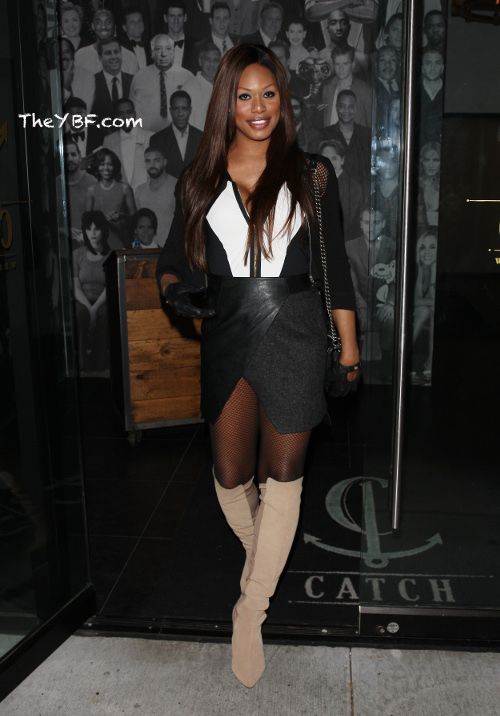 The YBF actress will be co-leading a new ABC pilot titled "The Trustee" alongside Meaghan Rath.
Deadline shares a few details about the one-hour comedy pilot:
"'The Trustee' is described as a fun, female buddy cop comedy about Eliza Radley (Rath), a driven but stubborn detective who finds unlikely help from her precinct's trustee, Amanda Jones (Cox) a larger-than-life ex-con finishing out her prison sentence doing menial tasks for the police department. Though these two have completely opposing views on crime and punishment, a highly entertaining and successful partnership is born."
This new gig comes on the heels of her role in the CBS legal drama "Doubt." While the show hasn't officially been cancelled, it's being reported it's not coming back.
The "Rocky Picture Horror Story" star STAYS booked and we're certainly not mad about it.
Photos: FameFlynet/Splash/Laverne's IG/Brian's IG