The social media drama is TEW much. Go inside for the showdown between former lovers/"Love & Hip Hop:Atlanta" stars Karlie Redd and Yung Joc. Plus, why Karl Kani is allegedly being accused of rape...
There's a saying that says, "If you can't take it, don't dish it." That's exactly what Yung Joc should consider.
Everything was all good when the "Love & Hip Hop: Atlanta" star threw a jab at his ex Karlie Redd on his Instagram. Soon as Karlie savagely claps back, he got real defensive and really mad, calling her all types of b&tches and things. Then, he ends up apologizing for it all.
So here's what happened, Joc took a screenshot of a report about Karlie dishing on her sex life with her rumored boyfriend/"Black Ink" star Ceaser and posted it on his Instagram account with the caption, "Lemme guess….?!?!?!? His needle doesnt touch the bottom like mine does!!!!!! Lol #sirpetty"
Check it:
Chile, Karlie was READY-T. Ok?
She must has a secret file on deck that she can whip out at any moment if he ever decides to act a fool.
Karlie posted a bizarre picture of Joc, insinuating he likes booty action in the bedroom: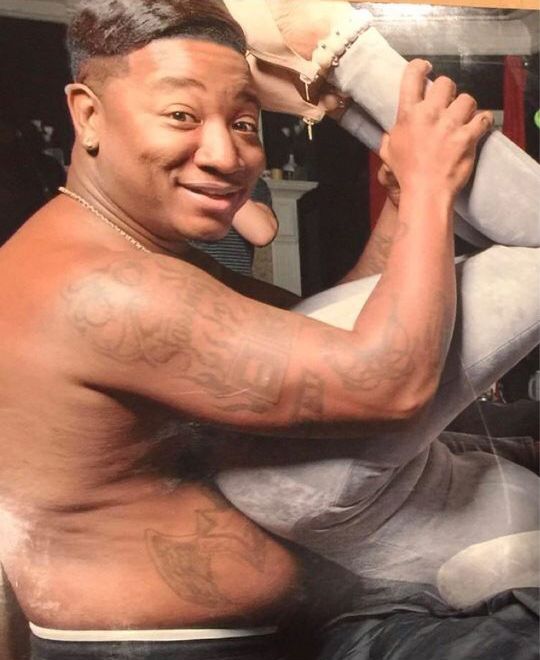 We see she doesn't play when it comes to HER man. And we see Ray J & The Game's manager got a laugh out of it.
Joc didn't like that! He quickly made a video to dispute her claims and that he's not with that "gay sh*.t" The rapper said he plays a lil bit, but she took it too far. Peep the clip:
He ended up deleting that video and posted up an apology today:
Like we said, if you can't take it, don't dish it.
In unfortunate news... 
90s fashion designer Karl Kani is being accused of allegedly drugging and raping a woman. And all the accusations are being made via Instagram.
An unnamed model (who goes by the Instagram handle @lovelymovely) took to her social media account to BLAST Karl Kani for raping her.
In several long IG posts, she claims after almost being in court for the incident for the last year, her case was closed because there wasn't enough evidence to conclude he actually raped her. Now, she hopes to bring awareness to his alleged acts in order to help another woman who may come in contact with him.
She says she had a professional fitting with Karl Kani and his team (they still making clothes?) and afterwards went to dinner with him. After that, she hardly has any recollection of what happened. She says she woke up the next day, laying next to him naked, confused and scared.
Read her posts below: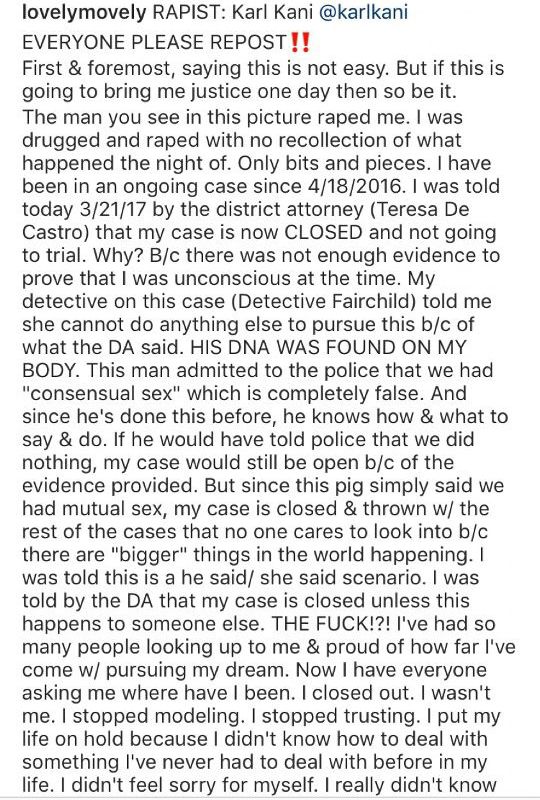 It appears she's hosting some type of rally/protest/meeting today to blast the fashion designer and to help raise awareness to rape culture:
And then we came across this...
A woman claiming to be the woman who said Colin Kaepernick and his friends raped her offered up some support.
As of the time of this post, Karl has not responded.
Photos: Getty/@lovelymovely