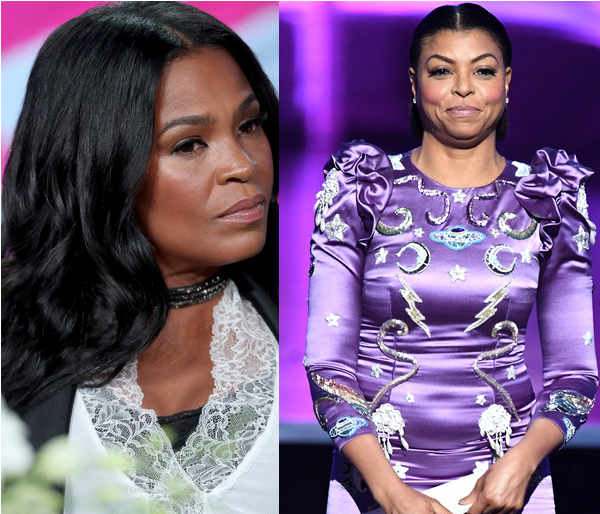 Now the hair and makeup team for "Empire" is getting involved in the alleged Nia Long v. Taraji P. Henson on-set war.  Deets inside on the formal complaint they reportedly filed against Nia....
Looks like Taraji isn't the only one who was allegedly pissed off by this season's secial guest star Nia Long.
Yesterday, when news broke that she and Taraji have been at war on the set due to alleged rude behavior from Nia, folks called B.S. on the story.  Media tends to stir up drama between leading women on sets, and this could very well be yet another example of that.  But now, there's more proof.
The hair and makeup team for the Fox hit show reportedly filed a formal complaint about Nia's rude behavior towards them.  Multiple cast, crew and production people also confirm to media that, in their opinion, Nia has been a nightmare on set.
There's three incidents that caused them to file the complaint.  From rude interactions with the glam squad to being late AF on the daily to Nia allegedly threatening to sue.
Sources tell TMZ:
-- Our sources say in the history of the show the hair and makeup people have only filed one formal complaint for mistreatment ... and that was against Nia. The hair and makeup people say she was extremely disrespectful ... at times deciding she didn't like her look at the last minute and then chewing them out. The sources say there have been numerous guest appearances on the show -- "from rappers to Demi Moore, and no complaints were lodged against anyone but Nia."

-- Our sources say Nia was "habitually late." They say Taraji and Terrence Howard would sometimes be waiting on set for 30 minutes and Nia was a no-show. Producers would finally use a stand-in for Nia so Taraji and Terrence could rehearse a scene.

-- It is custom on the set when guest stars finish their last scene for the Assistant Director to call it out ... "This is (name of actor) last scene," followed by a "thank you" and applause. When Nia did her last scene, Terrence was having some sort of allergic reaction and his lip began swelling. The A.D. was looking for Benadryl when Nia left. It's unclear if the A.D. was distracted or just didn't want to thank Nia, but we're told as Nia walked out she told someone in production she was going to sue the show because the "goodbye" was in her contract. Production sources say it was not in her contract.

 
Things got so bad that Taraji and Nia allegedly had to shoot scenes they're in together, separately.
EXTRAS:
1.  Remember the teacher who went viral for personalized handshakes with every one of his students? His class was treated to a special surprise.  STORY
2.  Kristi Yamaguchi told Nancy Kerrigan to "Break a leg!" before her "DWTS" debut.  Twitter went nuts.  STORY
3.  An internal memo released today details reasons why Monica Conyers was fired from her job at 910 AM Superstation this week.  And the head honcho says she lied and committed thievery (again). STORY
Photos: Getty