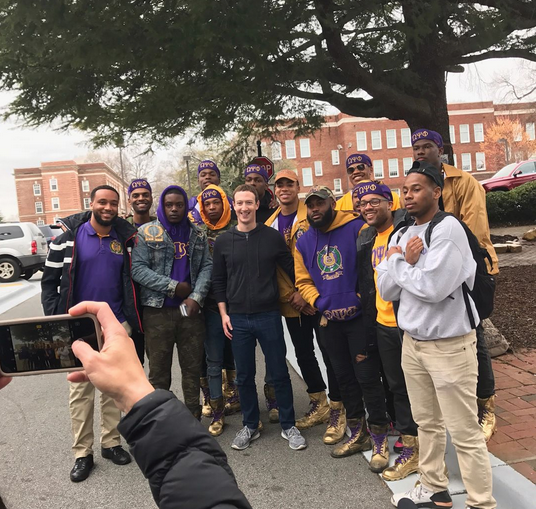 Facebook CEO Mark Zuckerberg trekked it to North Carolina A&T for a town hall discussion. But before he spoke to the students, he got a huge Greek welcome from the AKAs. Peep the clip inside…
Facebook CEO Mark Zuckerberg is currently on a tour across the nation to get out of his San Francisco "bubble." But, we're sure he hasn't received a welcome quite like this.
The tech mogul stopped by North Carolina Agricultural and Technical State University (the top school of African American graduates in engineering, agricultural science and accounting) for a town hall meeting on Monday (March 13th). And the ladies of Alpha Kappa Alpha Sorority, Inc. served up a warm welcome.
Check it below:
He also snapped pics with the Divine 9 (above and below):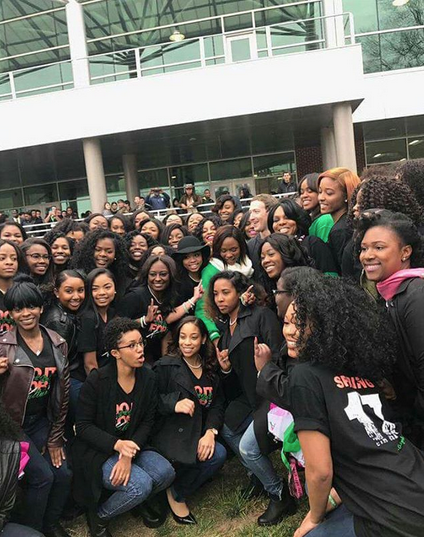 Nice!
FUN FACT: North Carolina A&T is Terrence J's alma mater and he's a member of Omega Psi Phi. 
The Facebook honcho was the featured speaker for the university's inaugural Chancellor's Town Hall on Monday. In front of 200 students, Mark talked about community building, fake news, coding, and diversity in the tech world.
"I don't think it's a secret that the tech community and industry has an issue with diversity,"he said. "We have to do a better job, but I think it's going to take a little while."
When asked how he felt about Facebook Live being used to hold police officers accountable for their actions, he responded,"I feel great. If we're not going to give them body cameras, then we'll give everyone a Live camera."
Peep a clip from the discussion below: 
Check out the full town hall meeting below: 
Which fraternity do you think Mark would join if he attended North Carolina A&T?
Photos: @reginaldeward/@ authornormajarrett