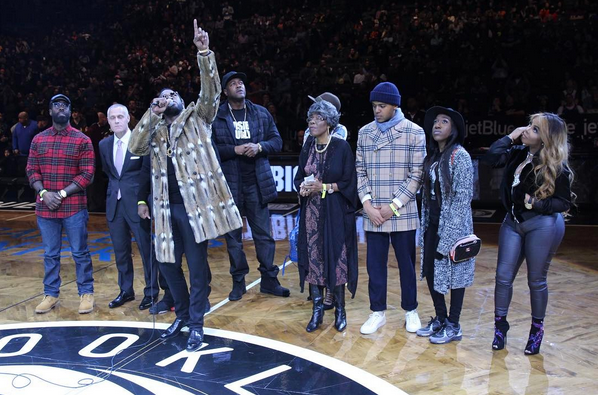 On the 20th anniversary of Notorious B.I.G.'s death, his family and friends celebrated his legacy at the Barclays Center. Salute the musical icon inside…
"Brooklyn We Did It!"
It's hard to believe it's been 20 years since rap icon Notorious B.I.G. passed away. On the anniversary of his death, his closest friends and family members honored the late rapper in his hometown at the Barclays Center.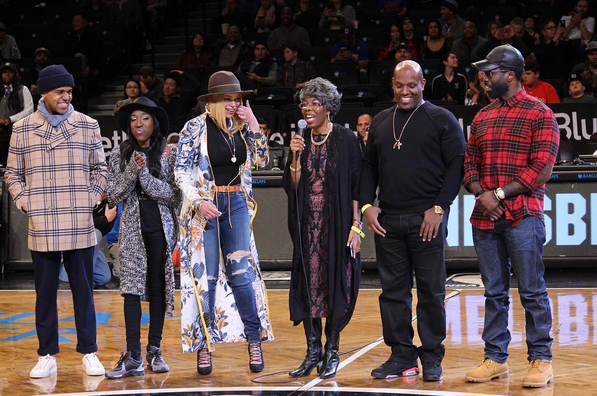 During halftime of the Nets vs. Knicks, Diddy, Faith Evans, Lil Kim, Biggie's mom Voletta Wallace, his children T'yanna and CJ Wallace, Big's right hand man Damion "D-Roc" Butler, and Biggie's managers Wayne Barrow and Mark Pitts took center court for the touching ceremony during "Biggie Night."
The Nets unveiled a Biggie jersey that was lifted in the rafters with the No. 72, commemorating the year he was born. Diddy did the honor saying,
"We are humbled and honored to be here. This week was the 20th anniversary of the greatest rapper of all-time, Notorious B.I.G. From Brooklyn, New York. From Brooklyn, New York! We celebrate and his passing...Tonight is 'Biggie Night.' Usually we do a moment of silence. But in honor of Biggie being from Brooklyn-- He always said 'spread love the Brooklyn way'--I would like to get 10 seconds of Brooklyn noise."
Peep a few clips from the ceremony below:
Check out the full presentation below: 
R.I.P. Biggie!
Photos: Revolt's IG