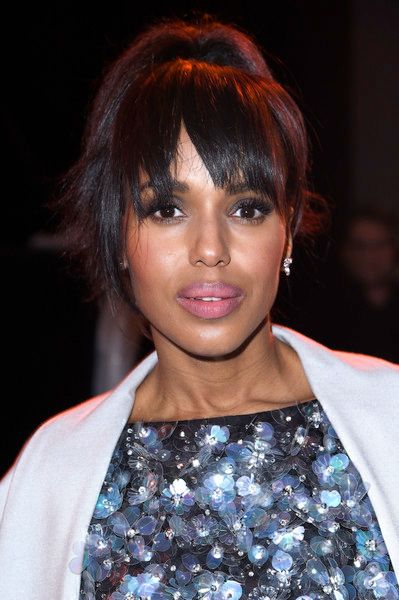 Kerry Washington will be lending her voice for the upcoming Cars 3 animated film. In other movie news, a new trailer for All Eyez On Me just dropped. More inside…
Clear your kiddies' schedules!
Disney PIXAR's Cars 3 is coming to theaters this year and you'll be hearing a familiar YBF voice for one of the characters.
"Scandal" star Kerry Washington will be lending her pipes to voice one of the animated characters. She's voicing Natalie Certain, a highly respected statistical analyst who knows her numbers. Book-smart and mathematically gifted, Natalie Certain may earn top marks in her ability to evaluate a racer's stats, but she could be underestimating the importance of determination.
Below is a short synopsis of the film:
Blindsided by a new generation of blazing-fast racers, the legendary Lightning McQueen is suddenly pushed out of the sport he loves. To get back in the game, he will need the help of an eager young race technician with her own plan to win, inspiration from the late Fabulous Hudson Hornet, and a few unexpected turn. Proving that #95 isn't through yet will test the heart of a champion on Piston Cup Racing's biggest stage!
Sounds fun. Mark your calendars because Cars 3 will hit theaters June 16, 2017.
For another new movie…
The 2nd trailer for the Tupac biopic All Eyez On just dropped and it's only building up the anticipation to see the flick.
As you all know by now, All Eyez On Me will focus on the slain rapper's rise to stardom, his stint at Death Row Records, his role in the east coast/west coast beef and everything in between.
Director Benny Boom will helm the film with an all-star YBF cast. Actor Jamal Woolard, who played Biggie in the 2009 biopic Notorious, will play The Notorious B.I.G; Demetrius Shipp Jr. will star as Tupac; "The Walking Dead" actress Danai Gurira will star as Tupac's mother Afeni Shakur; "Vampire Diaries" star Kat Graham will play Jada Pinkett Smith, actress Grace Gibson (Lynn Whitfield's daughter) is set to play Faith Evans, and actor Dominic Santana will star as Suge Knight (and he looks JUST like him too).
Peep the new trailer above.
All Eyez On Me is set to hit theaters June 16, 2017.
EXTRAS:
1. The 7th season of "Game of Thrones" will premiere July 16, 2017. STORY
Photo: Getty