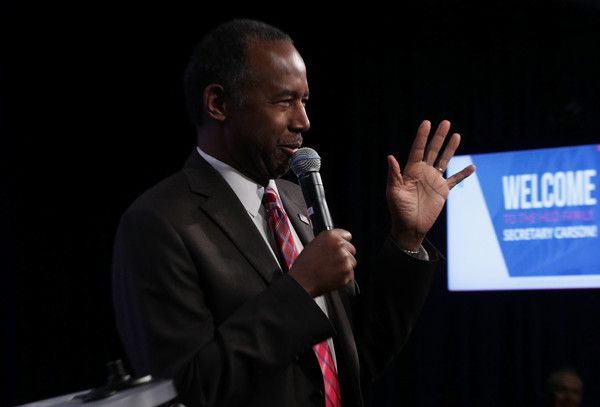 Oh Ben!  This guy stays putting his foot and everything else in his mouth.  This time, he's getting dragged for equating slaves to immigrants...
Monday, U.S. Housing and Urban Development (HUD) Secretary Ben Carson addressed his employees in Washington, DC. for the first time since he took office.  He tried his damndest to give an inspirational introductory speech, but that piece crashed and burned.  Totally.
While speaking about immigrants, he said that people who came over to America at the bottom of slave ships and worked for far less were also immigrants.
Nah, Ben.  They were called slaves.  They didn't just "come over," they were ripped from their own families and forced against their will to come to America.  And they didn't work for "far less," they worked for nothing.  Zip, zero, zilch.
Jordan Peele, director of Get Out, and a few others had epic responses:
"Now you're in the Sunken Place" pic.twitter.com/e29hs8d60g

— Jordan Peele (@JordanPeele) March 7, 2017
Ha!
OK!! Ben Carson....I can't! Immigrants ? In the bottom of SLAVE SHIPS??!! MUTHAFUKKA PLEASE!!!#dickheadedtom

— Samuel L. Jackson (@SamuelLJackson) March 6, 2017
Ben issued a response as social media dragged him for filth:
Yeah, the technical definition of immigrant is "one who travels to another place and stays permanently," but we all know the actual usage of the word immigrant does not apply to slaves.
BONUS: While Ben Carson was busy making false equivalencies, Trump's administration presented a new health care bill.  That whole "repeal and replace" mantra isn't going over too well.  Democrats believe the plan only helps the rich while even some republicans  are calling it Obamacare Lite.  the highlights about what the new "American Health Care Act" does:
eliminates individual mandate immediately
 
repeals ACA penalties
 
creates tax credit tied to age to promote buying the insurance
 
allows expansion of medicaid
keeps preexisting conditions provisions
allows people to stay on their parents' insurance until 26
Hmph.
Photo: Getty