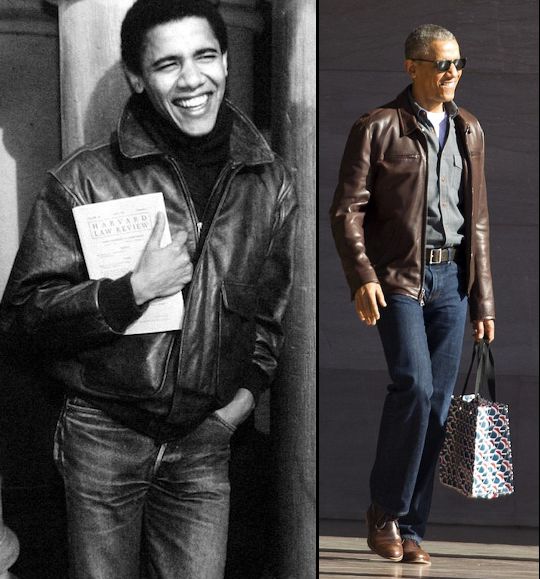 Former President Barack Obama is still the leader of the new cool, even out of his buttoned-up suits and ties.  Check out how he still can make us blush in a leather jacket and jeans – especially like he did this weekend – inside.
Back in '92, a then Harvard Law Review Editor Barack Obama was fresh to death in his afro and leather bomber jacket and jeans.  Yesterday, he tapped back into his original pre-Presidential style.
Mr. O and Mrs. Michelle Obama made their way to the National Gallery of Art in D.C. to take in the new "Theaster Gates: The Minor Arts" exhibit.  The art lovers were accompanied by plain clothed secret service, and still look like they're living their BEST lives, chile.
The 55-year-old cool dad rocked a brown leather Canali jacket, a J.Crew button-down, a pair of Levi's and matching brogues, likely by his fave shoe designer Allen Edmonds.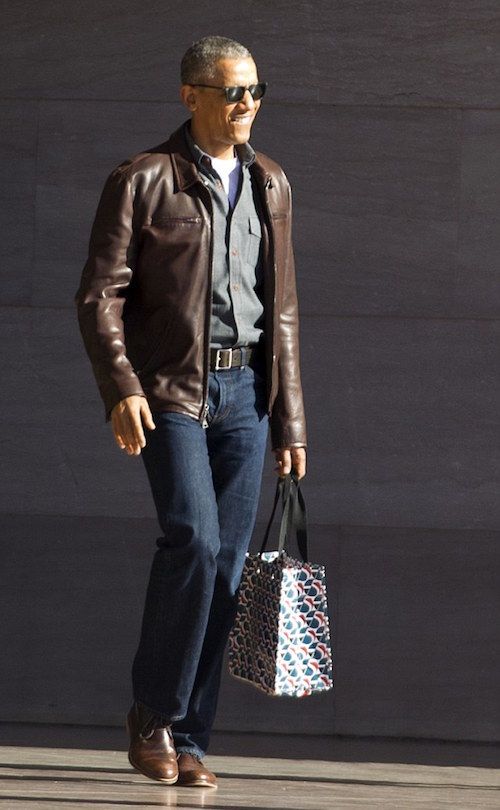 Michelle Obama kept it casual in all black, and looked effortlessly chic.
The first floor of the Gallery was shut down during their visit, and the huge crowd shouted, applauded and cheered when they saw why:
Fab times!
Needless to say, Obama appears to be unbothered by Trump's latest defamatory accusations that the former President had his property at Trump Towers wiretapped right before the election.  Deep sigh.
Obama's current spokesperson, Ben Rhodes, has been giving epic responses on Twitter:
No President can order a wiretap. Those restrictions were put in place to protect citizens from people like you. https://t.co/lEVscjkzSw

— Ben Rhodes (@brhodes) March 4, 2017
Dear Pundits who lauded his speech. Is it still "presidential" to call your dignified predecessor "Bad (or sick) guy!" https://t.co/kQ0OXC4HUi

— Ben Rhodes (@brhodes) March 4, 2017
Hmph!
He's lying no matter what "3 people with direct knowledge" say. This isn't he said / he said. Obama did not order a wiretap. That is a fact. https://t.co/7F7PALoyfd

— Ben Rhodes (@brhodes) March 5, 2017
Needs to be repeated: this is not he said/he said- it's truth/lie. Obama didn't do what Trump said. Trump lied about it and offered no proof https://t.co/kcwO2M9UXx

— Ben Rhodes (@brhodes) March 5, 2017
They must always be the victim, they must always have an enemy, and there's no difference between the truth and a lie. https://t.co/HfrK8ABYEm

— Ben Rhodes (@brhodes) March 5, 2017
The Deflector-in-Chief seems to be trying his damndest to divert attention away from Jeff Sessions' purgery foolishness when the new Attorney General claimed he never met with Russian authorities (and was proven to be a liar in that sense).  The house of cards seems to be tumbling as mutiple people in Trump's administration have met -- off the record -- with Russian authorities.  We do not have many diplomatic relations with Russia.  It's problematic at best.
In other news, former First Daughter Malia Obama is still chillin' in New York, loking fresh faced and fab, doing her Weinstein Company internship.  New pics in the gallery below!
EXTRAS:
1. Rep. Cedric Richmond, leader of the COngressional Black Caucus, apologized to KellyAnne Conway for his jokes about her tragic imagery from the meeting with HBCU heads in the Oval Office.  STORY
2. Don Cheadle says he's hated Trump since he asked his friend's father if he ever f**ked a ni**er.  STORY
Photos: AP/@Mica4Life