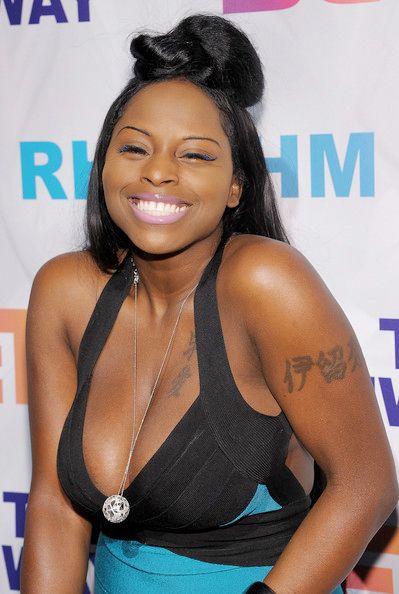 Since Nicki Minaj has yet to respond, Foxy Brown has decided to pen a clap back at Remy Ma. And there are rumors that Fox just had a baby! Get it all inside…
It's been almost a full week since Remy Ma dropped her "ShETHER" diss track on Nicki Minaj and still no official response. At least, not from Nicki.
But, Foxy Brown is jumping in the mix to add her 2 cent. You may be wondering why is Fox getting in the middle of this? Well for starters, she and Nicki are cool. Secondly, Rem threw a subtle shot at Fox on her "ShETHER" track and that was enough to conjure up a response from the Brooklyn raptress.
On "ShETHER," Rem raps,"Talking sh*t about me to a death b*tch." She also said, "And usually I have sympathy for the impaired. But not when you hard of hearin' from untreated gonorrhea."
Sounds like those lines were aimed at Fox since she temporarily lost her hearing in 2005 and the rumor that Jay Z once gave her gonorrhea.
Well, Fox served up a response to Remy in a one-minute snippet she released today titled "Breaks Over."
Rapping over Jay Z's "Takeover" track, Fox fired off a series of disrespectful bars aimed at Rem.
"Brooklyn, Imma kill this b*tch. The takeover, the fake's over. Got a little shine, okay, thank Mona."
The "Mona" reference is in regard to Remy starring on Mona Scott Young's "Love & Hip Hop" franchise.
Foxy gave a shoutout to Nicki (Nick's my b*tch), confirming she and the Head Barb are good friends. She also said Remy needs to stop with the gangsta talk because when they both were in jail, Remy was shook.
"When we was on the island, Rem was in PC shook. She was never tough, she was never wildin'."
Then, Foxy hit below the belt, commenting on Remy not being capable of having children.
"Pap fucked that dirty-ass BX beast. I'm a motherf*ckin' BK savage. You heard? Yeah, I heard about that bitch miscarriage."
Yikes.
Take a listen below:
Now, about this baby Foxy allegedly had.
Talk show host Wendy Williams made the announcement on her show that Foxy recently gave birth to a baby girl.
"Literally, as I'm putting on my bracelet, the telephone rings," she said. "Congratulations to Foxy Brown. She had a baby girl."
Wait…what?! Who even knew she was pregnant? Wendy went on to hint at who could possibly be the child's father revealing,
"Allegedly it's a reggae star and I'm not going to say his name because I think that me and Foxy have some sort of relationship and the bureau does have a working telephone. So, maybe she'll call us."
Chile….
If true, congrats Foxy!
BONUS: In case you missed, find out what Remy Ma said about Nicki Minaj trying to sabotage her career behind-the-scenes HERE.
Photo: Getty