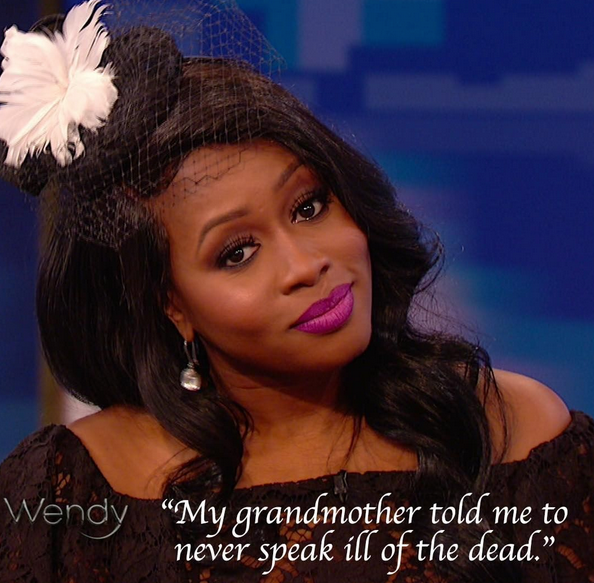 Remy Ma came dressed for a funeral for an appearance on "Wendy Williams" this morning. The self-proclaimed Queen of Rap finally revealed the REAL reason she popped off on Nicki Minaj and it may or may not surprise you. Find out what she said inside…
Remy Ma dubs herself as being extra petty and her petty levels were at an all time high this morning on the "Wendy Williams Show." The self-proclaimed Queen of Rap hit up daytime TV this morning dressed for a funeral. Nicki Minaj's funeral to be exact.
Sitting alongside her "brother" Fat Joe, Rem explained what caused her to go lethal on the Head Barb on her diss track"ShETHER."Guess what? It had nothing to do with the shade thrown in her recent raps. It's what Nicki is doing behind-the-scenes that has Remy pissed off.
"It was the behind-the-scenes things that you people would never know about as far as trying to keep me off red carpets, and trying to make sure awards don't go to me or she's not going to be in attendance, or trying to get people to make bad reports about my album sales or just anything that I'm doing to make me look less and make her look better. When you try to stop my bag, when you try to stop me from taking care of my children, I have a problem with that."
Remy explained Nicki started it and that she likes to play these games, pointing out how she started beefs with Lil Kim, Mariah Carey and Miley Cyrus. She said she didn't care what Nicki was saying on records, but she does have a problem with her trying to get "ShETHER" pulled off Soundcloud and iTunes.
"You so up, and you're so on top of everybody and you're better than everybody…why you worried about little old me? I just came home from prison. I don't want no problems with anybody."
As for the research she did for the "ShETHER" track, she said she can be friends with someone, but she's always "cataloging" information just in case you ever try to come for her.
While the rest of us waits patiently for Nicki to respond, Remy said she's not waiting on a response from the "Anaconda" rapper.
"I'm not waiting to hear anything. Everything that I've said, I said."
Later, Remy said she learned a valuable lesson from Nicki on how to treat people. She said so many people have come out of the wood work to spill tea on Nicki.
She said she was going to say one last thing and then she's not discussing it anymore."This person, just based on what I've witnessed, is not a nice person."
The Bronx rapper said Nicki made a mistake picking a fight with her, "Someone once said when they were in the middle of a rap battle, you gotta be careful who you choose your battles with."
In closing Remy reflected on some advice given to her by her grandmother saying, "My grandmother told me to never speak ill of the dead."
Bloop!
Check out her full interview below:
The interview was likely taped before Rem went in on Nicki AGAIN, dropping another diss track titled"Another One" and posting (then deleting) a flick of Nicki before the alleged butt injections. Wendy didn't ask any questions about the 2nd diss track or the social media shade.
Later, Remy, Joe and Sevyn hit the stage to perform "Money Showers" and "Lean Back."
Check it:
Photos: Wendy's IG/Remy's IG