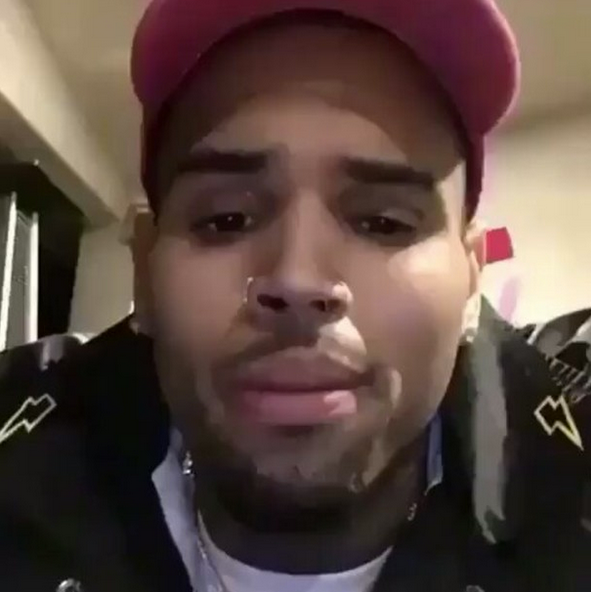 Chris Brown is sick and tired of the bullsh*t. He's responding to a new report that details how his life is spiraling out of control due to excessive drug use. Hear what Breezy has to say about it inside…
Billboard unveiled an explosive investigative piece that paints a story about how Chris Brown's life is spiraling out of control due to excessive drug use. In the profile, the music magazine examines the last three years of Breezy's personal and professional life, speaking with some of his former associates and some people currently in his inner circle.
"He will cuss you out and say, 'Hey, man, I'm ­functioning. I'm going to get the work out.' And he does," says a current member of Brown's team. "But [he's not] the first functional star who thinks they can handle those powerful drugs. I got to say with all my heart, he's dancing with death."

"Sober Chris is a solid guy with a big heart. High Chris and Chris coming off drugs is ungrateful, unappreciative and a foul person who most people don't want to deal with," says a close former ­associate. "Good Chris? You'll fight for him. Unfortunately, the last couple of years, it has been drug Chris. That Chris is not a good dude."

"You can talk to any drug addict or ­chemically imbalanced person -- it doesn't just go away," says a former member of Brown's inner circle. "It's something you have to work on. You have to change your lifestyle. And he's not doing the things he needs to do to get well, so he's never going to be well. The kid is going to hit rock bottom."
WOW!
Well, Breezy got wind of the piece and decided to respond via Instagram Stories to let his fans know he's fine.
"I'm tired of reading about some sh*t soon as I've got something poppin'," he said. "Soon as I want to promote a tour, a party, a f*cking album, anything. Y'all bring up something."
He said everyone is concerned with who he's dating, but he said he can be seen with whomever he wants to be seen with and added, "I'm not hurting out here."
Peep the video (posted on a fan site):
In another clip, he said he's solely focused on making music and all he needs is his "weed" and his "work."
Check it:
Below are a few more explosive highlights from the piece:
On Brown's obsession with Kerrueche Tran:"He's always on social media, looking up who Karrueche was with, what she was looking like, what club she was at, who posted to her Instagram."

On Brown's parenting: Brown is "a great Instagram dad"

On firing management: That member of Brown's personal detail recalls Brown screaming at his recently hired ­tour manager, Nancy Ghosh, ­threatening to beat her up because she asked his cousin not to smoke marijuana on the managers' bus. She quit that day...

"Once he did what he did to Mike G, there was no structure," that former security team member says. "We had no manager telling us what to do or where we were going. He would make people sleep on the bus [instead of hotels] when he was mad at them. He was ­threatening people and cops. He was calling ­himself the devil."
You can read the full piece here.
Meanwhile, Chris' mother Joyce Hawkins (who was spotted at LAX with Chris' daughter's mother Nia Guzman the other day) recently took to Twitter and dropped a few subliminal messages: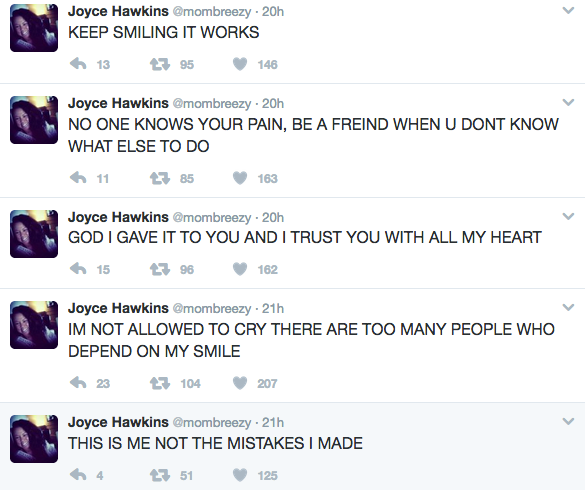 So, do you believe what's being said about Breezy's behavior?