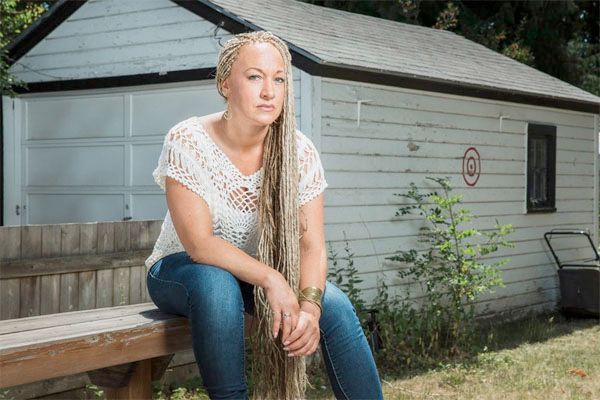 Rachel Dolezal is back to trolling. She has legally changed her name to a West African moniker that means "Gift of God." *rolls eyes * More inside….
This chick is determined.  It's not like you can change your racial identity, but Rachel Dolezal is doing everything in her power to become a black woman.
After lying about being black and causing a sh*tstorm in the media, Rachel is now taking her "blackness" to another level. And we're sure more controversy will come from it.
The ex-NAACP leader has legally changed her name to reflect the heritage she claims to identify with. Rachel is now going by Nkechi Amare Diallo, according to the Daily Mail report.  The site claims they've obtained the actual documents.
Rachel previously admitted she's white, but she still identifies as being black.
Nkechi is short for Nkechinyere and it comes from the Igbo word for "what God has given" or "gift of God" in Nigeria. Her last name Diallo means "bold." Really girl?  Like, we all know who she is so who is she really fooling? We wonder what book she picked up to find this name.
After the 39-year-old stepped down from her role in the Spokane NAACP chapter once her white parents put her on blast, Rachel lost her job as an adjunct instructor at Eastern Washington University. Soon after, she told the media she can't find a job, she's on the brink of homelessness, and that she was on food stamps to make ends meet.  She says a friend helped her pay 2 months of rent.
In the meantime, she penned a book titled "In Full Color," that's due to be released this month. Maybe this is just a way to promote her new book. 
Her baby, whom she named Langston, has also just turned 1.
Langston is one and has officially taken his first steps #babylove#thejoysofmotherhoodpic.twitter.com/zRfcaRgAIF

— Rachel Anne Doležal (@RachelADolezal) February 25, 2017
Either way, she needs to cut out all the foolishness. No one is here for it:
So Rachel Dolezal is trolling me by adopting an Igbo name. She has no right to call herself Nkechi. As an Igbo man, I'm offended & repulsed.

— Chidike Okeem (@VOICEOFCHID) March 1, 2017
Igbo people to Rachel Dolezal pic.twitter.com/9XJ2wFXOZx

— Atane Ofiaja (@atane) March 1, 2017
Nkechi, yeah?

Oh, Rachel Dolezal. You disrespectful muppet.

— Bim Adewunmi (@bimadew) March 1, 2017
Rachel Dolezal has changed her name to Nkechi Amare Diallo.. Igbo people, we are not claiming her.

— Childish (@stefffknee) March 2, 2017
Girl...
Photo: Justin Bishop via Vanity Fair