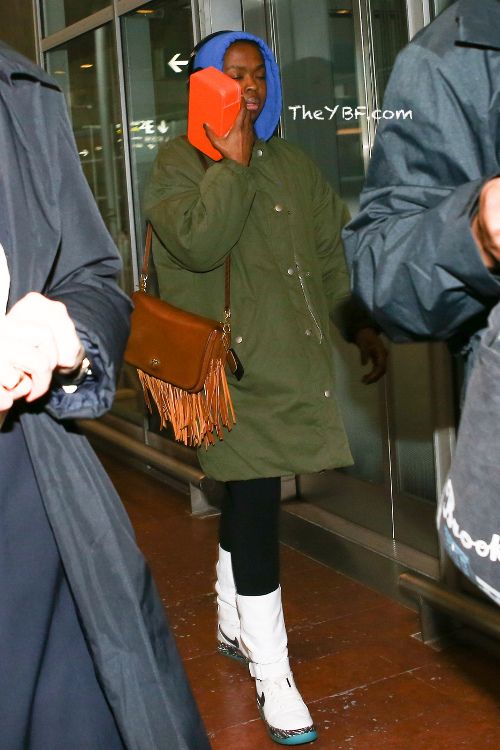 In a rare moment, Lauryn Hill was spotted makeup-less as she touched down in Paris. Meanwhile, Alicia Keys nails impersonations of Adele and Gwen Stefani on late night television. Peep the pics and videos inside…
After getting dragged in the headlines for being extremely late for her concerts, photogs caught up with singer Lauryn Hill in Paris. The "Ex Factor" singer was spotted making her way through Charles de Gaulle Airport, hiding her fresh face from the cameras.
L. Boogie has been catching heat from fans for constantly being extremely late for her concerts. She got dragged online for being over 3 hours late for a show in Pittsburgh earlier this month and with good reason. Lauryn has made a habit out of being super late for her shows, so we can imagine their frustration.
Speaking of gigs, Lauryn will be headlining the 10th annual Soundset festival set to go down Sunday, March 28th. Other acts include T.I., Gucci Mane, Kevin Gates and more. Let's hope Lauryn is on TIME.
On late night television...
R&B singer Alicia Keys, who just released her new album HERE, made her way to the "Tonight Show with Jimmy Fallon" where she played a game of "Wheel of Musical Impressions." Alicia and Jimmy had to hit a button, which spins a wheel and whatever the wheel lands on, they have to sing that song the way the person chosen would sing it.
The Grammy Award winner first had to sing "Miss Mary Mack" like her "The Voice" co-judge Gwen Stafani. She nailed it.  Next, Alicia had to sing "The Alphabet Song" as if she were Adele and she nailed that too.
Check it above.
A. Keys also dished on the time she had to ask Prince if it were OK for her to cover his 1982 ballad "How Come U Don't Call Anymore" on her debut album Songs In A Minor. Just like anyone else, chick had an embarrassing fan out moment. Check it below:
Photos: Pacific Coast News