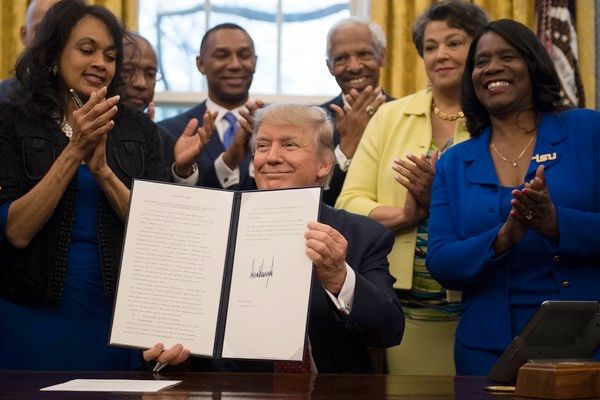 So, HBCUs fell victim to Donald Trump's opportunist ways. Yes, he signed the HBCU executive order, but it doesn't even address their top concern: federal funding. Details inside…
On Monday, Trump invited several HBCU presidents to the Oval Office for a meeting about the future of the historically black colleges and universities. Everyone in the room seemed excited to talk to the president about the next step for HBCUs, but we're sure all the hype has died down after finding out what was actually in the executive order.
Not to mention, the way they were treated while they were there. Dillard University president Walter M. Kimbrough said Trump cut their time to speak and was hardly listening when they did get the chance to talk. The specifics of the order were not discussed during the signing. In Trump's remarks he said "with this executive order, we will make HBCUs a priority in the White House, an absolute priority."
Now, the HBCU executive order has leaked and it's basically the same order as former President Barack Obama's, except now, the objectives will now be reported directly to the White House rather than the Department of Education. Many hope this will give them a more direct line to the President. Good luck with that.
This perspective from former Executive Director of the White House Initiative on Historically Black Colleges and Universities Ivory Toldson, who was appointed under the Obama Administration, sums it up perfectly:
Last December, the United Negro College Fund sent a memo to Trump giving him ten ways he could help with the advancement of higher education for blacks. The top priority in the memo asked for an increase in federal funding for HBCUs. Did Trump address that priority? Nope. It was ignored.
The executive order also ignored their request to double the funding for Pell Grants.
So Trump basically used them for a photo-op and a press release? Yeah, Pretty much.
Photo: Getty