The 2017 Academy Awards were full of shenanigans.  But this real life tour group who was surprised with a trip to the Oscars...without even knowing they were going...EVERYTHING.
Find out how "Gary from Chicago" just became an instantaneous celeb inside...
Jimmy Kimmel is known for his pranks.  So the late night talk show host turned Oscar host Kimmel'd the Oscars.  Dude had a tour group who was on a stroll through Los Angeles get brought on stage DURING the Oscars taping. 
Oh, and they weren't aware they would be popping up o stage in the middle of the Oscars...until those curtains raised up.  Then, BAM. they're standing smack dab in front of Denzel Washington, Meryl Streep, Ryan Gosling, Jennifer Aniston and every other A-lister on the front to rows.
Pure hilarity.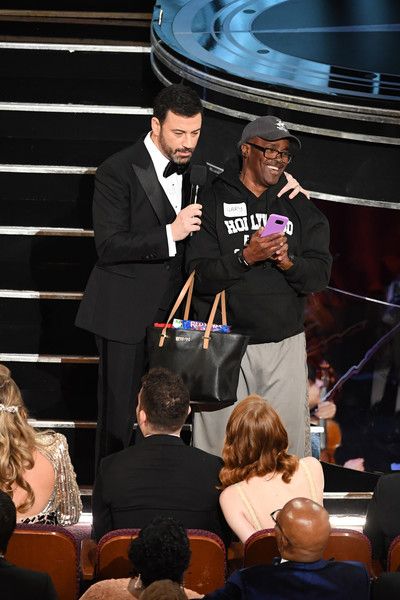 One tourist, who identified himself as "Gary from Chicago", yes, he got real specific, was filming the entire charade on his phone, despite Jimmy telling him he didn't need to.  His fiance was also in the group.  Once she revealed their wedding date, Jimmy had her fave actor who she had just pointed out, Denzel Washington, come up and bless their union.
Ha!
Get into the whole video below where Gary -- who was holding his fiancé's purse and all -- takes Mahershala Ali's Oscar he just won to snap a few selfies:
Hilarious.
And we're pretty sure Gary's about to get 15 minutes of fame out of this.  Even the Chicago Bulls are fans:
Gary from Chicago! We've got you covered if you want to come to a game! #Oscars

— Chicago Bulls (@chicagobulls) February 27, 2017
THE funniest ish we've ever seen at the Oscars. Photos: ABC/Reuters/IG