LaLa Land was originally announced as the Oscar winner for Best Picture at Sunday night's Academy Awards, but the universe peeped game and said 'Not today Satan!'  Get into Moonlight's completely unprecedented & freak-accident win inside... [UPDATED]
UPDATE: PricewaterhouseCoopers, the long time accounting firm handling the Oscar votes, takes full blame for the mishap saying:
We sincerely apologize to Moonlight, La La Land, Warren Beatty, Faye Dunaway, and Oscar viewers for the error that was made during the award announcement for Best Picture. The presenters had mistakenly been given the wrong category envelope and when discovered, was immediately corrected. We are currently investigating how this could have happened, and deeply regret that this occurred. We appreciate the grace with which the nominees, the Academy, ABC, and Jimmy Kimmel handled the situation.
------
For the first time in the 80+ years of Oscars history, a (huge) mistake took over the night.
When Warren Beatty and Faye Dunaway announced LaLa Land as the winner of the Best Picture category Sunday night, the cast and producers rushed up on stage in excitement. No more than two minutes later, producer Jordan Horowitz SNATCHED the card from Warren and said into the mic (with the RIGHT card showing) that there had been a mistake -- and Moonlight was the rightful winner. Say what now?!
We're not sure how the Steve Harvey-like mistake happened, but it seems there were two different cards that both said Emma Staone, Outstanding Leading Actress for LaLa Land and that was the cause for confusion.
Warren said he stumbled in reading the winner because he thought it was odd it said Emma and LaLa Land.  As for why he passed it to Faye to read instead is beyond us.
Chile....
The Moonlight cast came up and accepted their win with director Barry Jenkins saying a powerful, but oh-so-true statement:
"Even in my dreams, this could not be true. But to hell with dreams!  I'm done with it.  Because this is true." 
Barry then posted the correct card on Twitter, so you know it's real:
STILL SPEECHLESS pic.twitter.com/qe3NUDWAHM

— Barry Jenkins (@BandryBarry) February 27, 2017
The shocked audience's faces -- including the Moonlight cast's -- was pretty much our faces too.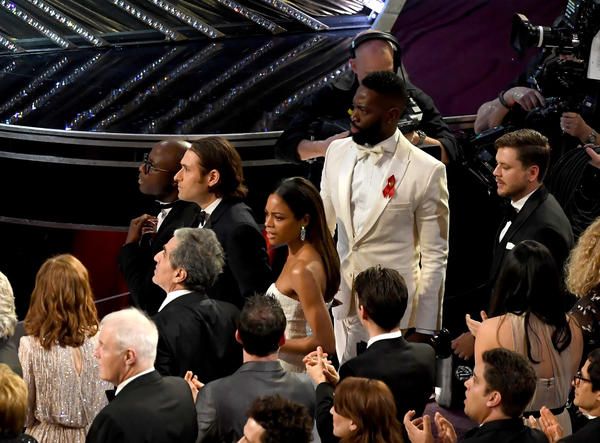 Check out how it all played out below:
Full video:
By the way, LaLa Land star Emma Stone spoke backstage to the press immediately following the debacle, and she says she had her own Best Actress card the whole time. 
It looks like there were, indeed, duplicates.
So are they going to go back and re-check that Best Actor card too...or nah?
Photos: Wireimage/Getty