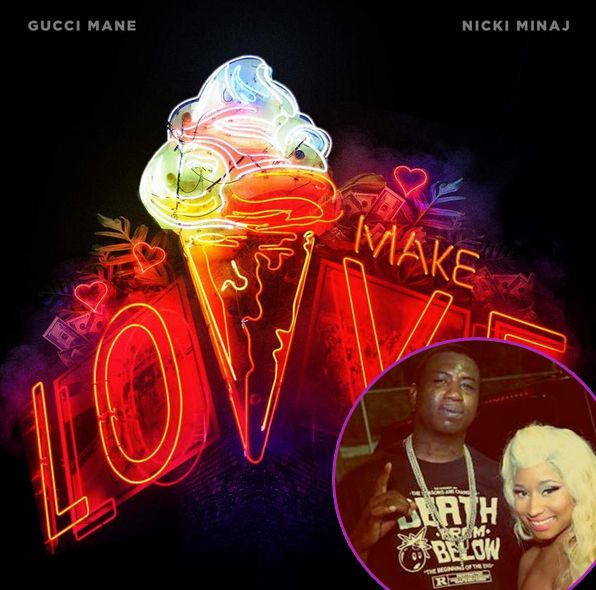 Nick Minaj dropped some harsh bars on Gucci Mane's new track "Make Love" and she's clearly calling out someone. Decide who's she firing shots at when you hear the new track, plus Future's baby mama Brittni Mealy on her petty ish inside….
Oh wait, Future says his kids have to learn to "sacrifice" since they have a superstar dad. Hmph.
Gucci Mane dropped a banger late last night featuring Nicki Minaj and the Head Barb is dropping bombs.
Mr. Wopster dropped his new single "Make Love," dubbing it "the hardest song of the year."
He's right, it definitely features some hard lyrics and Nicki is the one serving up tons of shade. The Young Money rapper spit:
Oooohhh, oh you the qu-e-e-the queen of this here?

One platinum plaque, album flopped, b*tch, where? (b*tch, where?)

Hahaha, ahhhhh

I took two bars off just to laugh

You see, silly rabbit, to be the queen of rap

You gotta sell records, you gotta get plaques

S, plural like the S on my chest

Now sit your dumba** down
You got an F on your test
So who is she dissing? Some say it sounds like she's coming at Remy Ma.
Since Rem returned to the rap game, she has made claims that she's the Queen of Rap. But, Nicki begs to differ. When she raps, "One platinum plaque, album flopped, b*tch, where? (b*tch, where?)" that sounds like a slight towards Rem. Remy and Fat Joe's "All The Way Up" went platinum and it's the only single that has gone platinum for Remy.
Nicki also rapped "You gotta sell records, you gotta get plaques." Sounds like another shot at the Bronx raptress as Remy Ma's 2005 debut album, There's Something About Remy: Based on a True Story is the only album Remy has dropped since she hopped on the rap scene and her sales were less than stellar. As you all know, Remy went to jail for seven years, which slowed down her career.
Nicki also tweeted this early this morning:
U peeped the name on the test in the lyric video on my IG? pic.twitter.com/5UzrPwGY47

— NICKI MINAJ (@NICKIMINAJ) February 24, 2017
— BRANDON MINAJ (@queennicminaj) February 24, 2017
Hmm…take a listen below and decide for yourself:
It's interesting to note, Remy dropped some bars on NYC rapper Phresher's "Wait A Minute" and folks speculated that she was dissing Nicki on the track. Remy said in a recent interview that she didn't throw any subliminals at Nicki because she never had a reason to diss her.
"Nicki Minaj never did anything to me," Remy said. "There's no reason for me to sub her. Any person I've ever head a problem with I will have no problem saying your name."
In more shade throwing news...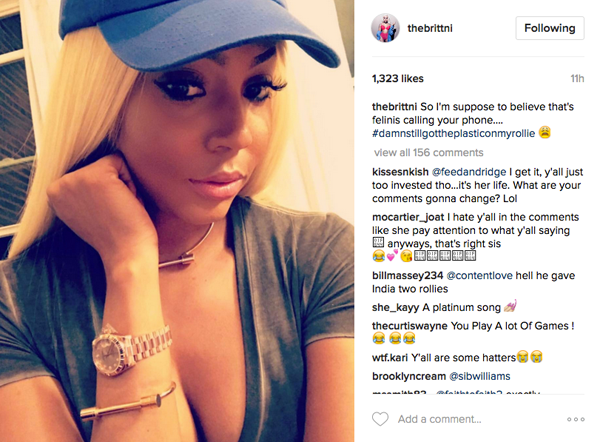 Future's son's mother Brinni Mealy posted a picture of herself on Instagram flossing a Rolex watch while quoting lyrics from one of Ciara's songs, "I Bet."
She said, "So I'm suppose to believe that's felinis calling your phone.... #damnstillgottheplasticonmyrollie"
It really doesn't make sense for Brittni to be coming for CiCi as Ciara has moved on. She married Seattle Seahawks quarterback Russell Wilson and is currently pregnant with his child. So, we're not sure where this came from. But, it's likely she's just seeking attention.
Speaking of Future….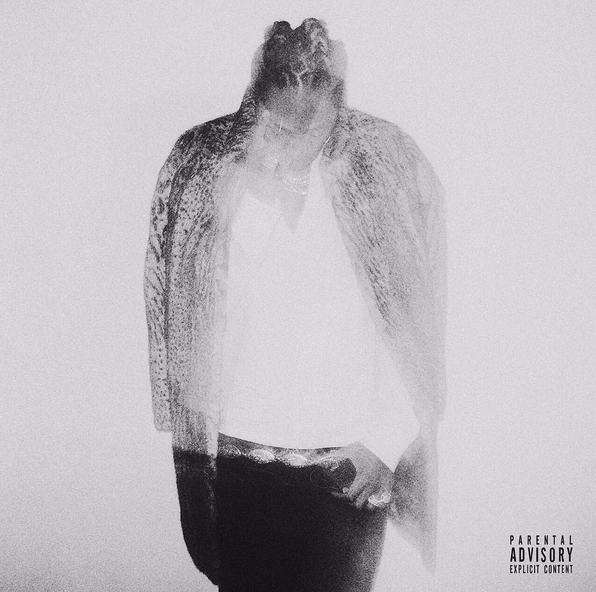 The Atlanta rapper, who just dropped his 2nd album HNDRXX in the last two weeks today, did an interview with Beats 1's Zane Lowe where he talked about his take on fatherhood. Future believes his kids have to "sacrifice" since he's famous.
In the interview he said:
"You gotta sacrifice so much, even the times with your kids. You have to just do music and you're becoming this entertainer and so many people require so much of your time for different things, different obligations you have to make money, or just different obligations you have as a person in whatever the situation may be. You gotta leave town and miss out on certain things, that you feel like you should be there. Like, your dad should be a part of this moment. I gotta be like, 'Damn, man, your daddy really a superstar and entertainer.' My kids gotta understand, they gotta make a sacrifice, having a superstar dad. My career choice is my career choice. Just stepping out of that zone, to be able to be a provider. I understand my position as a provider and my role as a dad also…Just being able to be comfortable with it. Everybody wanna be a super dad and the best dad ever but sometimes, I'm just realizing that I'm not perfect."
Really Future? OK.
Photos: Gucci's IG/Brittni's IG