Drake is setting up shop in his hometown of Toronto with a massive dream house fit for rap royalty. Deets on his mansion, plus everything he spilled about Nicki Minaj, Meek Mill, racism, the Grammys and more in a new interview inside…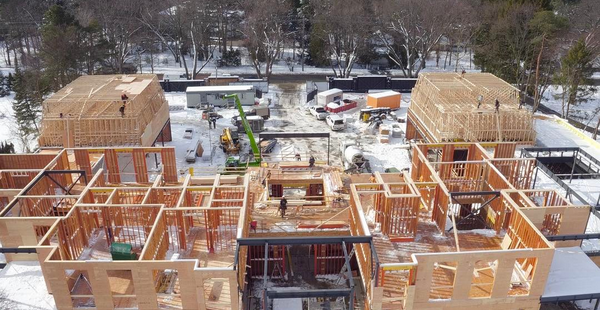 This definitely is filed in the "Must Be Nice" files!
Drake is building a mansion fit for a king in his hometown of Toronto. And the 6God gave his fans a sneak peak at the under construction dream house via his Instagram page captioning, "Manifested this one from time."
It's hardly finished, but it already looks dope AF. Luxury designer Ferris Rafauli designed Drizzy's abode. And this isn't the first time the two have hooked up on a project. Ferris also designed the Young Money rapper's exclusive members-only lounge Sher Club in Toronto. It's reported the mansion is being built in the Bridle Path neighborhood, one of the most affluent neighborhoods in Canada. We didn't expect anything less.
In other Drizzy news…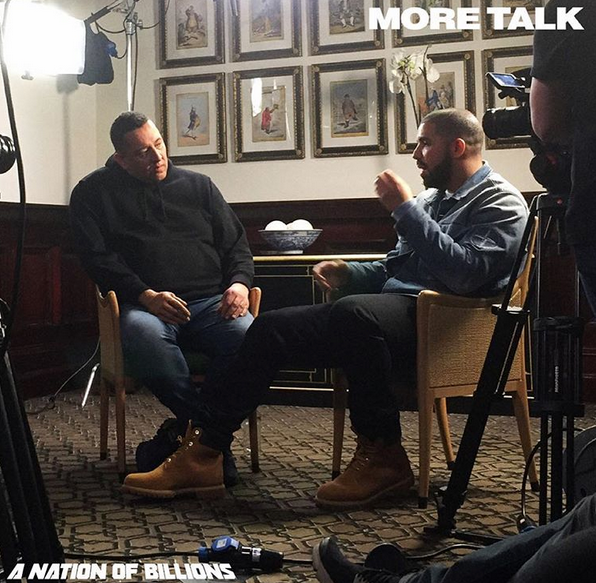 Before he gives his fans 'More Life,' Drake sits down with DJ Semtex for OVOSOUND Radio for a candid interview about damn near everything.
The "Fake Love" rapper opened up about how he decided NOT to bring Nicki Minaj in his beef with Meek Mill, the first time he experience racism, why he doesn't want his GRAMMY Awards he recently won, and his new project, More Life.
Check out the highlights (via Rap Up) below:
On his beef with Meek Mill:"You can interview Meek and ask him if it was worth it. I bet he'll say 'no.' … That was a terrible, impulsive decision because you weren't ready. I study the game and I'm a very calculated thinker. I'm sitting here thinking you're ready for it. My mind was going 1,000 miles a minute. I'm thinking this goes so high up that I'm about to see the craziest shit I ever seen. I didn't know who was going to be on a diss track with him or what he had ready. I thought this was three months in the making and I'm just getting blindsided. And then when I drop 'Charged Up' just to kind of see what the preparation level was, I realized you're not ready."

On why he never mentioned Nicki Minaj during the beef:"My biggest focus the entire time was, 'I cannot disrespect Nicki Minaj or use Nicki Minaj in any way other than to lift her up.' That's not in my character. I didn't go the route of calling him a bunch of terrible names. I just used wit and good writing, ironically enough, great writing, to win that situation."

On the first time he experienced racism:"The first time I really experienced [racism] was when I got famous and went to America. People would challenge me like I don't understand how it works. 'Oh, you're Canadian. You'll never understand the black American struggle.' That was the first time I really ever got challenged. It was by people who I'd met in America who were close to me at the time."

On why he doesn't want his Grammys: "I am referred to as a black artist. Last night, at [the Grammys], I am a black artist. I'm apparently a rapper even though 'Hotline Bling' is not a rap song. The only category that they can manage to fit me in is in a rap category, maybe because I've rapped in the past or because I'm rap. I can't figure out why, just like I can't figure out why 'One Dance' wasn't nominated. There's pop obligations that they have and I fluked out and got one of the biggest songs of the year. That is a pop song and I'm proud of that. I love the rap world and I love the pop community but I write pop songs for a reason. I want to be like Michael Jackson and artists I looked up to. Those are pop songs. I never get any credit for that. By the way, I'm speaking to you as a winner. I won two awards last night, but I don't even want them. It just feels weird, for some reason. It just doesn't feel right to me."

On why More Life is the evolution of a mixtape: "The style in which it's being put together is based off of our concept that is OVOSOUND Radio. You'll kind of hear it when you hear the project. I love the way it's put together. It's really put together as a seamless listen. Basically, what I asked myself was, 'What would happen if I just did an OVOSOUND Radio but every song was a new Drake song?' That was kind of my idea for it.' "It's just an evolution of the mixtape," he continued. "It was getting tough to be like, 'I'm dropping a mixtape but it's for sale on iTunes.' It was like, 'Oh, that's your album.' I didn't want people to say this is my next album. Views was my album. This is something that, after Views, I was just inspired. I wanted to keep the music flowing."
Take a listen to the full interveiw below:
Photos: Drake's IG/ DJ Semtex's IG