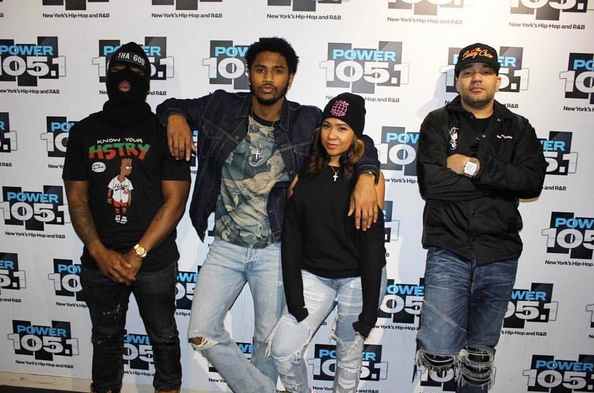 Trey Songz has been involved in a whirl of sh*t in the last few months and now he's setting the record straight. Go inside for the juicy details…
Trey Songz doesn't talk much about incidents that go down in his life that make the headlines, but he's getting some things off his chest to set the record straight.
The R&B crooner has been involved in a plethora of high-profile incidents lately, so he stopped by Power 105's "The Breakfast Club" to tell his side about each situation.
First, he made it clear that the controversial "Tremaine The Playboy" reality dating digital series is NOT real. It was actually a music video.
"It's not real," he admitted. "The way people consume music, the way people love reality TV, the way people love drama, just the illusion that it could be something I was doing was a great way for me introduce music. I had y'all fooled…It did what I wanted it to do…I got the people that's upset about it and the people that's like, 'Where do I sign up?' And, you know, we're having different conversations about different things now."
That jedi mind trick.
Mr. Steal Your Girl also had some drama with Keke Palmer. She threatened to sue the R&B singer for filming her for a music video during a party that she did not approve. The "Scream Queens" star also claimed Trey used "sexual intimidation" to use her likeness in the video.
He dished,
"Ain't nobody put her on camera without asking. There's a sign on the door. 'There's a video being shot. You step on these premises, you will be recorded.' Point blank, period. I don't have to say nothing else about nothing. But I will say that, being that her and I have had a friendship, I've known her a long time. We had the same product manager. When she came to Atlantic Records, I was on like my second album or something. It's always cool. That's why I didn't want to speak out. She was doing her most to defame me. I thought that was wack…Keke's got me on her Snapchat talking to girls, smoking, doing all types of stuff. I don't know she's shooting me on her Snap. Did I go on the Internet saying, 'Keke, you got me on your Snapchat, talking to girls. You got me on Snapchat while I'm not looking.'"
While Keekz said she and Trey talked it out and buried the hatchet, Trey said he hasn't spoken to her about it at all.
"That's a lie, too. I ain't talked to her. I ain't talked to Keke, y'all. I ain't call Keke. I ain't tried to call Keke. None of that. I did not put her in the video without her permission either. I didn't [take the video down] either. I ain't had nothing to do with nothing. Y'all do what y'all wanna do. It's not my video. It's not a song that's on any album. It's somebody else's song. It's a video we shot in passing. I don't care that much to sneak Keke Palmer in a video for two seconds. Who the fuck does that? I'm gonna sneak you in the video, Keke? No, I'm not. Fuck outta here."
Damn.
Remember when Trigga got arrested and charged in Detroit for allegedly punching a cop after trashing the stage? Well he talked that too. He said:
"The stage thing in Detroit, there's so many layers to that. What people don't understand is that the people who cut my music off have actually been working for me for seven-eight years, on tour with me, we got personal relationships. And they started my show three minutes late and ended it five minutes early. So, people don't understand that…I definitely felt disrespected, mostly because these people, literally, every tour you've seen me on, have been working for me…There was fraudulent claims about me doing this and that backstage. I don't ever speak on it too much, what negativity gets thrown in the air because it will settle itself. Too many rebuttals… especially when the law is involved. I still gotta go to court for that."
And then there was the time he hopped on SnapChat cursing out the MGM Casino. Trigga explained what happened when he got "kicked out" out the MGM after an altercation with a heckler went down. He explained:
"I won $100,000 [on blackjack]. I'm a gambler. I play cards. So, I go down there for like four hours before I leave. The dealers are switching out every 30 minutes but I'm winning. When I start losing, the dealer stays for an hour…I'm not down. I'm even. So, I'm like, 'Can I switch the dealer?' I play cards. I know I can switch the dealer. It's high limit. They're like, 'Nah.' I'm like, 'Why? You gave me all these rooms, comped me dinner, rooms, champagne.' … Then somebody comes, the VP or pit boss or something, it's a black guy. The white guy's been there all day, showing me love, but the black guy gets switched out and says, 'Nah, we can't switch the dealer.' … While I'm trying to talk to him, a heckler comes over, somebody drunk. He talking shit to my security. So, as I'm talking to the VP, my security guard goes over to calm that situation down. The VP tells us we gotta leave because we're upsetting whomever this other person is. The heckler leaves though, but we still gotta leave. While we're having this conversation, I'm calm. I turn around, there's 15 police behind me. There's three of us…Why y'all need so many police? Y'all done treated me like y'all supposed to, I ain't did nothing crazy. I went crazy after that because I felt disrespected. They weren't kicking me out the casino; they were kicking me out the high limit. I literally went and gambled for two more hours on the floor. I had rooms the whole weekend and I spent money with the MGM [National Harbor]…F*ck the MGM! I've been so smart, so careful and calculated. I'm tired."
Sheesh.
So is Trigga ready to settle down with a serious relationship and have kids?
"I didn't wait this long just to have a baby moms. I want a wife. It's hard to find something concrete in this business… When I say its difficult to be in a situation like this its because women 'allow' me to do whatever I want to do."
Oh really Trigga? Hmph. 
Check out the full interview above.
Photo: DJ Envy's IG