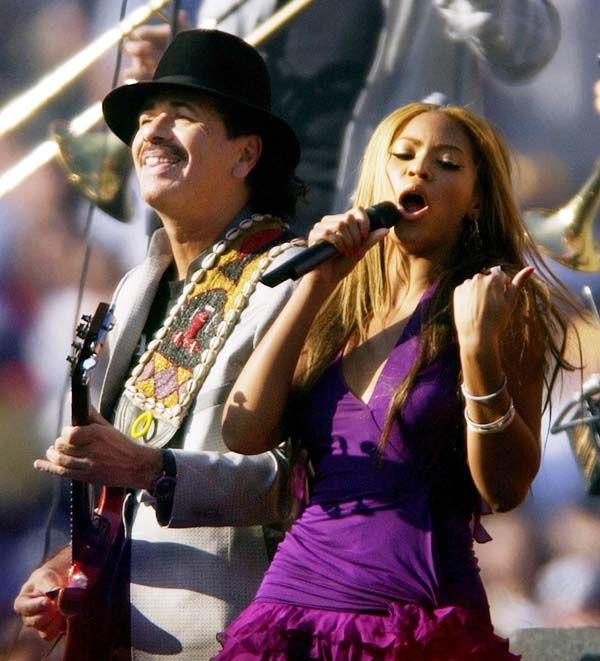 Carlos Santana doesn't want it with the Beyhive!  The legendary guitarist is now backtracking on comments saying Beyoncé isn't a real singer.  yeah, he went there.  Deets inside...
After Sunday night's Grammy's, Beyonce's Album of the Year loss is still a buzz-worthy topic amongst the masses.  Even Adele herself, after she won the award, says Bey should have won.
Apparently, legendary guitarist Carlos Santana thought his input would shed some light on what happened. 
He gave a possible reason, according to himself, about why his 2003 Super Bowl co-performer Beyoncé didn't win that top honor for her album Lemonade.  While chatting with the Australian press, he said:
"I think that Adele won because she can sing, sing. She doesn't bring all the dancers and props, she can just stand there and she just stood there and sang the song and that's it, and this is why she wins," Santana told AAP.

"With all respect to our sister Beyonce, Beyonce is very beautiful to look at and it's more like modelling kind of music - music to model a dress - she's not a singer, singer, with all respect to her," he said.
Oh?  Since when is the criteria for Album of the Year that one can't have dancers and superb production to go along with one's fabulous ass singing?  Hmph.
He knew he f'd up, so he flew in with a statement via his official Facebook page to clarify.  It reads:
I would like to clarify a comment that was reported when I was doing an interview for some upcoming shows in Australia & New Zealand. My intent was to congratulate Adele on her amazing night at the Grammies. My comment about Beyonce was regretfully taken out of context. I have the utmost respect for her as an artist and a person. She deserves all the accolades that come her way. I wish Beyonce and her family all the best.
Not sure what the context was supposed to be, but ok. 
#YouSaidWhatYouSaid
Photo: AP