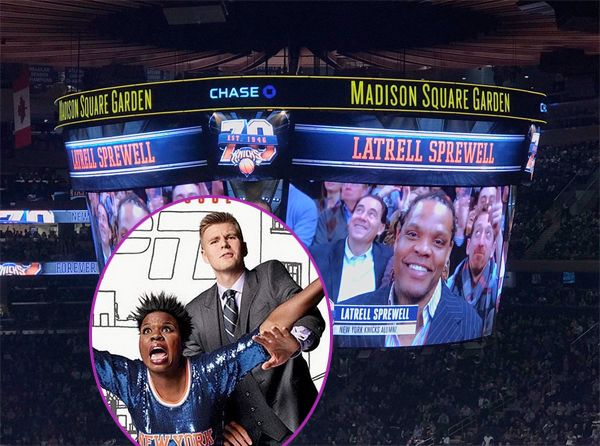 Knicks owner James Dolan is petty.  Find out which players he invited to last night's game, plus catch a sneak peek at Leslie Jones and Chance The Rapper's new ESPN covers inside…
And the New York Knicks' drama continues!
Knicks owner James Dolan pulled a PR stunt during Sunday's NBA game between the NY Knicks and the San Antonio Spurs. In an effort to show strong relationship ties between the Knicks organization and their alum amid the Charles Oakley drama, Dolan invited at least nine former players to attend Sunday night's game.
Even Latrell Sprewell, a player he once feuded with and who was KNOWN to brawl, was invited. Dolan sat between Sprewell, who recently joined Ice Cube's Big3 league, and former Knicks player Bernard King courtside during the game that resulted in a shocking win for the Knicks, 94-90 at Madison Square Garden.
"When I left I was not happy,'' Sprewell told ABC. "New York is like a second home for me. I love the fans here. The fans embraced me. There's no place like the Garden to play in. I was very disappointed [with being traded], but we had fun in Minnesota. I'm just happy to be back now. It was very much appreciated.''
Sprewell also talked about Charles Oakley's ban (after he was arrested and booted from a previous game) from the Garden.
"It's obviously a disappointing thing," Sprewell said. "No one wants to see anything like that. It will be something everybody can just somehow iron out and get past."
The other Knicks alumni to join Sprewell and King were Larry Johnson, Gerald Wilkins, Vin Baker, John Wallace, Kenny Walker, Herb Williams and Bill Bradley. During the game, the Knicks showed love to the old timers with shoutouts on the jumbotron: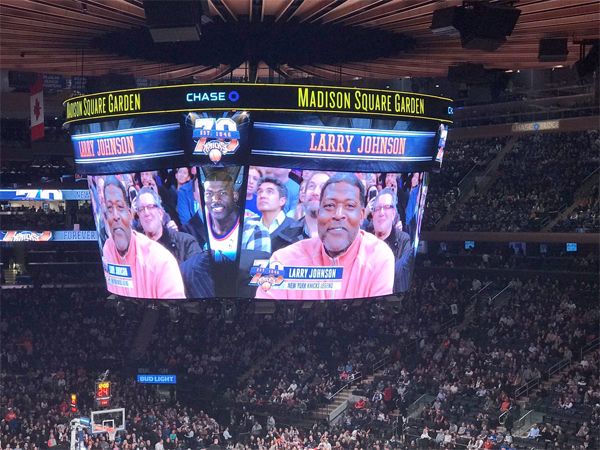 Knicks superstar player Carmelo Anthony was happy to see the legends in the building.
"To see all them guys tonight, that was good,'' said Carmelo. "They all came in the back, talked to them, mingled with them. I'm a student of the game. I know the history. It was good they were there."
We see the Knicks PR staff is working overtime.
Love was still shown for Charles Oakley. Knicks lover/filmmaker Spike Lee was in his usual courtside seat rocking an Oakley jersey.
Speaking of the Knicks...
Comedienne Leslie Jones, rocking a sparkly Knicks jersey dress, is featured on the cover of ESPN magazine's Entertainment Issue alongside Knicks baller Kristaps Porzingis. Shine Leslie!
Grammy Award winner and Chi-town native Chance The Rapper joined fellow Chi-town native/Chicago Bulls forward Jimmy Butler on a 2nd cover for the Entertainment Issue. The duo was all about representing their hometown with Chance wearing a Bulls sweater while Butler dons a throwback pinstripe Michael Jordan jersey.
Grab your copies when they drop next week.
 
EXTRAS:
1. The NY Giants just released Victor Cruz and RB Rashad Jennings to free up significant salary cap space.  STORY
Photos: Knicks' Twitter/ABC/Leslie's IG/Chance's Twitter