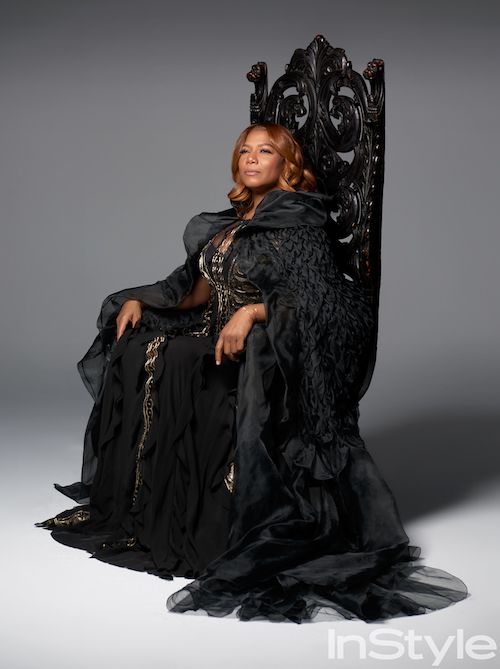 Queen Latifah is opening up about something pretty interesting -- her toughest role she's played.  Find out why she says playing a gay character was one of her toughest career decisions inside...
In the upcoming March 2017 issue of InSTYLE mag, "Star" actress Queen Latifah chops it up with Tracee Ellis Ross for some girl talk.  And Queen spilled a little tea about her toughest career decision. 
She revealed she had to sit down her younger siblings and tell them she was playing a gay character named 'Cleo' in Set It Off.  And she had to pre-warn them about possible backlash. 
Queen

Latifah on one of her toughest career decisions: "When I got the role of amateur bank robber Cleo Sims in Set It Off, I sat down with my younger siblings and told them, 'Listen, I'm playing a gay character. Your classmates might tease you or say negative things about it. But I'm doing it because I believe I can bring positive attention to the gay African-American community, and I believe that I can do a great job as an actor.'"

Queen

Latifah on the key to living a magical life: "I used to get caught up in comparing myself, especially in terms of body type, but I realized that often the people I envied were missing important things that I had in abundance…It's great to have plans and a vision for your life, but it's more important to be open to the unexpected.

Queen

 Latifah on today's pop-culture royalty: "I've been a fan of Solange Knowles from the beginning. The biggest artist in the world is her older sister, yet she never relied on that."

 
One time for the shared Solange love!
Queen also talks to Tracee about reinvention and coming home to yourself in the full interview.  Plus, check out the video below to find out what Latifah would do if she were a traditional Queen for a day.  Chick said she's designing a sex palace! Oh, and there would be a National Mac & Cheese Day where no one would gain a pound.

Somebody crown her already.