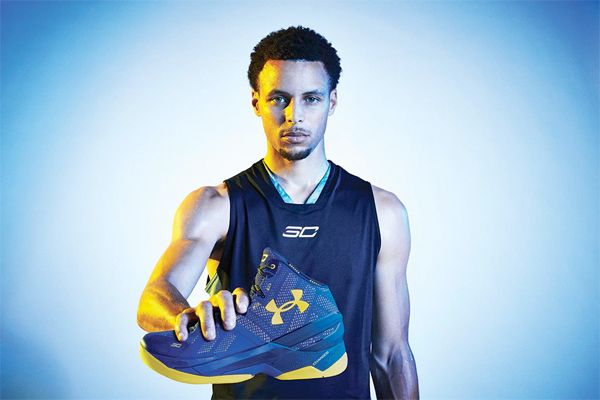 Steph Curry is a stand up guy. He said he's not afraid to leave Under Armour if their views don't match up with his core values. Oh, he also fired off a shot at Donald Trump, dubbing him an "a**." Details inside…
Golden State Warriors baller Steph Curry is putting his money where is mouth is. The Under Armour ambassador said he will unassociated himself with the company if the company's leadership doesn't line up with his core values.
Under Armour CEO Kevin Plank is a supporter of Donald Trump saying in an CNBC interview earlier this week, "To have such a pro-business president is something that is a real asset for the country."
The two-time reigning NBA MVP offered up a clever response to Under Armour's CEO comments telling The Mercury News that he agreed with his comments, "if you remove the 'et' from asset." Bloop!
Steph said he spent a whole day on the phone with folks over at Under Armour trying to understand what's going on. He contined,
"I spent all day yesterday on the phone, with countless people at Under Armour, countless people in Kevin Plank's camp, my team, trying to understand what was going on and where everybody stood on the issue. Based off the release that KP sent out this morning and what he told me last night, that's the Under Armour that I know. That's the brand I know he's built and one that, as of Wednesday afternoon, is something that I'm standing on."
Steph is Under Armour's most high-profile spokesperson where he's paid $4 million annually. He also gets a stake in the shoe and apparel company through 2024. But, Steph is willing to risk it all.
"If there is a situation where I can look at myself in the mirror and say they don't have my best intentions, they don't have the right attitude about taking care of people," Curry said. "If I can say the leadership is not in line with my core values, then there is no amount of money, there is no platform I wouldn't jump off if it wasn't in line with who I am. So that's a decision I will make every single day when I wake up.
Later, Under Armour CEO Kevin Plank tried to clarify his comments, saying his comments were from a business point-of-view and not reflective of the company's social stance.
After the Warriors' 123-92 win over the Chicago Bulls on Wednesday, the NBA superstar said he will not shy away from speaking out on issues he feels that need to be talked about.
"I rather not be in that position, obviously," Curry said. "But at the end of the day when you need to speak for yourself and make it known how you feel, you don't shy away from those opportunities in making sure that I need to say what I needed to say."
Mad props to Steph for taking a stand and looking at the bigger issue at hand.
Photo: Under Armour