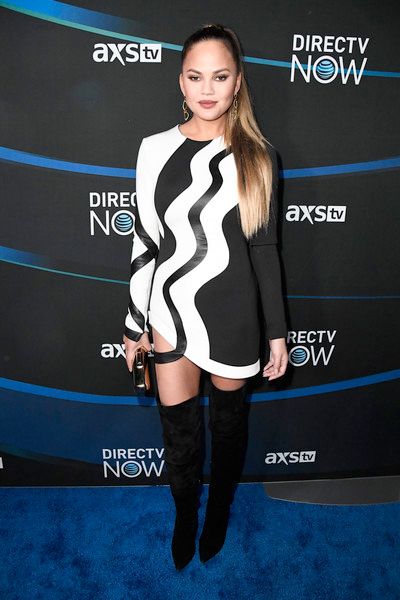 Chrissy Teigen was involved in a hit-and-run and lives to hilariously tweet about it. Get your laugh on, plus read the latest on Tyga's newest lawsuit inside...
Leave it to Chrissy Teigen to make light of a car accident…and tweet about it. She's fine and her tweets about the ordeal are hilarious.
It was reported the Sports Illustrated swimsuit model was involved in a hit and run accident in Hollywood Tuesday evening (Feb. 7th). Police told E! News she was riding on the passenger's side with the vehicle was hit, but was not injured. It was also noted that an arrest had been made on misdemeanor hit and run.
Once Chrissy's fan got word of her hit and run, they took to Twitter to see if she was ok. And the jokes ensued.
Check it:
lmao it's like being alive but reading about your death. https://t.co/zUl37gEY6g

— christine teigen (@chrissyteigen) February 8, 2017
Got hit by a speeding loon while turning and he fled but cops were right there. Cops who talk to E!, apparently. Not a big deal. I'm good!

— christine teigen (@chrissyteigen) February 8, 2017
I got out of the car and was like phew that was kind of a boring day anyhow.

— christine teigen (@chrissyteigen) February 8, 2017
Ha! Glad she's OK!
In legal news...
Tyga has been hit with more lawsuits than a little bit and they just keep rolling in.
Remember when we showed you a video of the "Rack City" rapper being served on his 27th birthday as he made his way inside the club a few months ago? In case you missed, peep the video HERE.
Well, the process server who served him the lawsuit claims he was beat up by his entourage, so he's firing off his own lawsuit.
In the suit, the server claims he was "grabbed, yanked, pulled and choked" by someone in Tyga's camp and now he wants justice. If this guy is looking for a quick come up, good luck. It's hard getting any money from the west coast rapper even when he owes. 
EXTRAS:
1. Tracy Morgan dishes on his steamy sex life with his wife as they try for baby #2. STORY
Photos: Getty/Tyga's IG