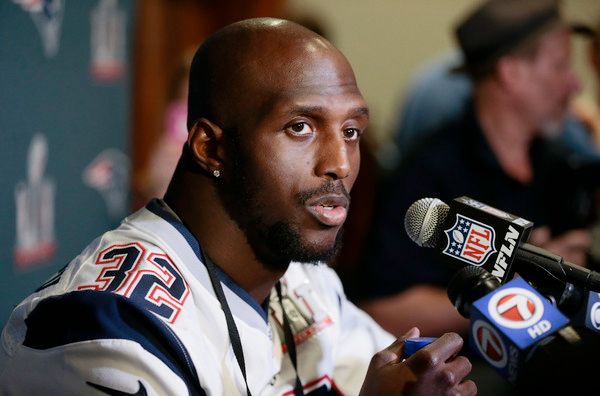 Two New England Patriots players will NOT be attending the White House ceremony following their Super Bowl win. Find out why inside (although we're sure it's obvious) and check out a few of the champs flexing their dance moves to New Edition tunes inside….
The New England Patriots won their 5th Super Bowl ring on Sunday…and most of the football world collectively sighed.
Following the Super Bowl, it's tradition for the winning team to visit the White House to celebrate their victory. But, at least two black players have already announced they will NOT be attending. Why? Well, you know…Trump.
Patriots' free safety Devin McCourty made it clear he's not going to the White House to meet Donald Trump because he doesn't feel accepted.
"I'm not going to the White House," Devin McCourty told TIME via text message Monday. "Basic reason for me is I don't feel accepted in the White House. With the president having so many strong opinions and prejudices I believe certain people might feel accepted there while others won't."
Hmph.  Makes perfect sense to us.
Devin made his announcement shortly after Patriots' tight end Martellus Bennett said he will not be visiting the White House either. Martellus told reporters last week, (if they won) he wasn't going to meet Trump.
"It is what it is," Martellus told the Dallas Morning News."People know how I feel about it."
Martellus has made it know in the past that he does NOT support Trump. What's interesting, the guys' teammate/quarterback Tom Brady, head coach Bill Belichick and owner Robert Kraft all happen to be good friends with Trump, so you KNOW they'll be in the mix kissing a** shaking hands.
And since America tends to have a short memory, Tom Brady skipped going to the White House while Obama was President when the Patriots won in 2015.
We'd also like to note, Devin and Martellus joined 49ers QB Colin Kaepernick in his silent protest against violence during the regular season, raising their fists in support during the National Anthem before games.
Meanwhile, at the Patriots Parade today...
Devin and his teammates Logan Ryan and Malcolm Butler got turnt all the way up! The fellas broke out their best New Edition moves for Mike Bivens, who was also in the mix for the celebration. First, the New Edition biopic, now the Super Bowl. New England is winning right now. Peep the clip above of the guys busting some dance moves.
Below are a few pics of Mike at the parade and New Edition singer Ralph Tresvant decked out in his Patriots gear: 
Fun times.
Photos: Getty/Ralph's IG