Naomi Campbell continues to prove black doesn't crack in a new GAP ad. Check out the ad, plus the new trailer for the second season of our latest obsess"Greenleaf" inside…
25 years ago, supermodel Naomi Campbell worked her model magic for GAP's 1992 campaign (above, left). Now, she's back like she never left, looking just as effortlessly gorgeous as she did back in the 90s (above, right).
The 26-year-old stunna is featured in GAP's new Generation GAP campaign, promoting a limited edition 90s Archive Reissue collection. She recreates her 90s look in a plain white pocket t-shirt and short denim shorts topping her look off with long black locs and a center part.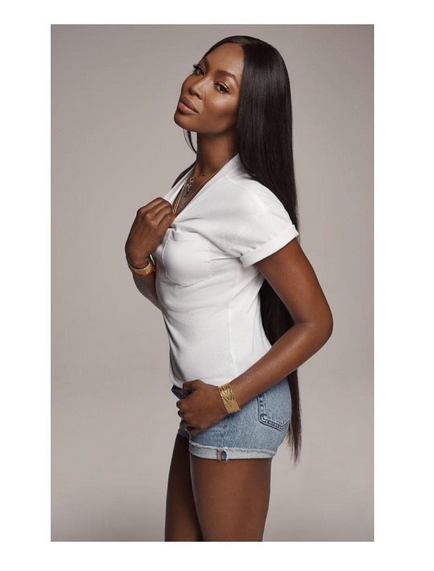 In the campaign clip, Naomi joins celebrity kids Evan Ross, TJ Mizell, Rumer Willis, Lizzy Jager, Chelsea Tyler and Coco Gordon. The celebuspawns break out in an a cappella version of Color Me Badd's "All 4 Love." Each celebrity yougin' has a parent who appeared in a 90s-era GAP ad. Naomi brings the throwback love has a nod to the past and to celebrate the next generation of tastemakers.
Check out the new ad and a video of Naomi behind-the-scenes of the shoot below:
And here are clips of Evan Ross (Diana Ross' son) and TJ Mizell (Jam Master Jay's son) below:
If you're looking to scoop up some retro GAP threads, the line drops today (Febrauary 7th) online and in select stores.
In TV news...
Season 2 of "Greenleaf" is gearing up to premiere and it looks just as church-messy as the first season. It was one of the biggest breakout series in 2016, premiering as the No. 1 series debut in OWN history and was 2016's #1 new cable series for women.
Now, it's back for another round of secrets and lies that could destroy the religious family and the people in the church.
Below is a synopsis of season 2 (via press release):
In the series' second season, the Greenleaf family tree will split at the root as Jacob (Lamman Rucker, "Why Did I Get Married?") ventures off to begin his new career with long-time rival church Triumph Ministries, breaking faith with his father, Bishop James Greenleaf (Emmy-winner Keith David, "Community") while his mother, Lady Mae Greenleaf (Golden Globe nominee and Emmy-winner Lynn Whitfield, "The Josephine Baker Story"), struggles with Jacob's decision to abandon the family. Meanwhile, after exposing her Uncle Mac's (GregAlan Williams, "The Accountant") crimes, but failing to bring him to justice, Grace "Gigi" Greenleaf (Merle Dandridge, "The Night Shift") finds herself intrigued with someone new, Darius Nash (guest star Rick Fox, "Dope"), a local journalist who's been closely following the ongoing threats plaguing the Greenleaf empire. Oprah Winfrey ("Selma") also returns in her guest starring role as Mavis McCready, the sister of Lady Mae Greenleaf and a close confidante to Grace Greenleaf.
Peep the trailer above.
The first eight episodes of season 2 will debut on Wednesday, March 15th at 10pm EST. The remaining eight episodes of the series' second season will air in summer 2017.  They're playing with our emotions...
Photos: GAP